Summer is here and that means lots of time outdoors, popsicles and snacks all day, and – let's admit it – probably a lot of screen time. But it also means local summer reading programs that may actually get your kids excited about cracking open a book before September!
When I was a kid, we lived for those personal pan pizzas from Pizza Hut. And earning them just for reading? Well, that sounded like a good summer to me!
Luckily, these days it's more than just Pizza Hut that is into incentivizing reading programs over the summer!
From ice cream shops to the public library, books stores to – you guessed it – pizza hut, there's really something for everyone to enjoy this summer. All while reading a book!
Here are some of our favorite local summer reading programs for kids!
Pizza Hut
We'd be remiss to start with anything but the classic!
These days, Pizza Hut hosts a program called Book It with several options. Their summer program is called Camp Book It, and is similar to the program you may remembers from your childhood! Designed for students Pre-K to 6th grade (ages 4-12), Camp Book It rewards reading with – you guessed it – personal pizzas!
Learn more and sign up for their digital dashboard here.
Long Beach Public Library Summer Reading 2023: Find Your Voice
We LOVE our local libraries and the amazing programs they are always hosting for our kids. This summer is no exception!
From now through August 12, kids can register online or in person at their local library to earn prizes and attend special events and performances! You can win prizes (and raffle tickets for additional prizes!) by keeping a reading log, daily reading prizes, and bonus tickets for writing book reviews.
Check out the library's calendar of events for magicians, puppet shows, animals, music performances and more! It's going to be a fun filled summer at the Long Beach Library – and it's all free!
Barnes and Noble Summer Reading Journal
Swing by your local Barnes and Noble (we went to the one at the Long Beach Town Center!) and grab a Summer Reading Journal! This program is meant for children heading into 1st through 6th grade.
If your child reads 8 books, and fills out the Summer Reading Journal, they will be rewarded with a book of their choice from the options available for their grade. My kids were excited by the choices and got to reading right away! Completed journals can be turned into Barnes and Noble between July 1 and August 31, 2023.
Scholastic Summer Reading on Home Base
We all love their Book Fairs and now Scholastic is leveraging their digital platform to bring you educational content all summer long! From the end of May through September 7th, students can sign up for Home Base where they can access stories, characters and games that will help prevent that summer learning slide!
As children read and log their books they can extend their Reading Streak. Doing so, they will unlock new games and experiences!
For more information and to sign up, click here.
Creamistry Summer Reading Program
My kids LOVE a summer treat and ice cream is delicious on a hot day – but it sure adds up! So we were beyond thrilled to find this SERIOUSLY AMAZING deal from Creamistry Cerritos! No logs! No digital portals! No mini book reports!
Just have your child show up and tell the staff about the book they read and they get a regular size ice cream! Full information found on the flier below!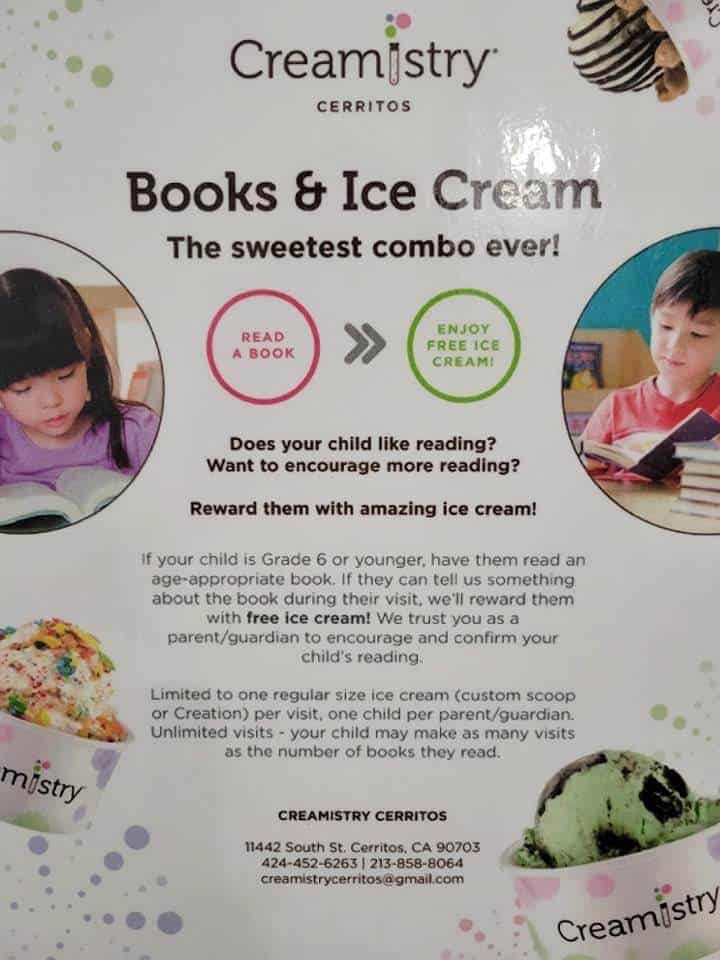 Did we miss one of your favorite summer reading programs?
Tell us about it in the comments so we can add it to our list!!
Looking for more summer fun? Head here next: