Looking for a zoo near Long Beach that is small, manageable, but still a ton of fun? You don't have to head to LA or San Diego! Check out the OC Zoo in Irvine for a great zoo at an even better value!
We're big time zoo enthusiasts. We regularly get family passes to the LA Zoo, and have even been known to get them to the San Diego Zoo and Safari Park. But sometimes we don't want to have to deal with the LA traffic or make a whole weekend of going to San Diego.
If you're looking to see some fantastic animals from the Southwestern United States, you'll find a great collection at the OC Zoo.
Nestled in the beautiful Irvine hills, the OC Zoo is one of our favorite places, that even we tend to forget about!
This post contains affiliate links. As Amazon Associates, we earn from qualifying purchases. You can read more at our disclosures page. Thanks!
Planning a Visit to the OC Zoo
The OC Zoo is open every day except Thanksgiving and Christmas. You can visit Monday through Friday, 10:00am to 3:30pm and Saturday and Sunday, 10:00am to 4:30.
For Googling purposes, the address is: 1 Irvine Park Road
Orange, CA 92869
Of note: The OC Zoo is located inside Irvine Park, so you'll have to pay to enter the park as well. Entry is $3 per car on weekdays, $5 per car on weekends and holidays. This fee covers your entry and does not include in and out privileges.
How Much Does the OC Zoo Cost?
One of the absolute best things about the OC Zoo is that it's the most affordable zoo you'll visit in Southern California. Tickets are only $2 per person, with kids 2 and under free. There aren't very many places I can take my family of seven for $10, but with two kids 2 and under, the OC Zoo fits the bill! Literally!
What Animals are at the OC Zoo?
For a small zoo, the OC zoo has some great animals! Immediately upon entering you come across the old Mountain Lion enclosure – which still houses a beautiful mountain lion. We were lucky enough to see her playing with a ball on our last visit.
Just past the Mountain Lion exhibit is a large enclosure that is home to two black bears. You can get incredibly close to these beautiful animals.
The new mountain lion enclosure boasts a phenomenal bridge from one side to the other, so if you get lucky enough, you might just get a mountain lion walking right over your head! There's a sister enclosure right next door, with a stunning black leopard. Keep your eyes in the skies here as well!
In addition to these large animals, the OC Zoo is also home to beavers, a bobcat, coyote, owls, a bald eagle, kit foxes, porcupines, a serval and many other mammals. There's also a nice collection of snakes and other reptiles.
What the OC Zoo lacks in size, it makes up for with amazing animals in some great enclosures!
What is There to Do at the OC Zoo?
Petting Zoo
One of my kids' favorite features of any zoo is a petting zoo. So while I was begging the kids to stay with me by the black bears, they were dragging me towards the goats! The OC Zoo has a a great children's zoo featuring a collection of domestic goats and sheep.
Grab one of the little hand brushes and the goats will be in heaven. Give them a hug and your little one might be in heaven too! Don't forget to wash up afterwards! There is a hand washing station located conveniently right outside the petting zoo.
Animal Enrichment
Check the daily schedule as soon as you arrive to get even closer to the animals! Stop by the black bears at feeding time or visit a keeper talk to ask a question about their mountain lions. Or my kids favorite – get up close with an animal like a possum!
Because the OC Zoo is a small zoo, all of these animal enrichment opportunities are especially wonderful opportunities to get a great close up view. We've found that we can get closer to the animals and have more one on one interactions with the staff in this more intimate setting.
Take an Audio Tour
Another great feature of the OC Zoo is that they offer a DIY audio tour. Dial (714)481-0355 to begin the tour. You can go in any order. Simply use the animal exhibit numbers to prompt fun and interesting information about the animals.
The audio tour features animal keepers, veterinarians and more with fun facts about the animals. Learn what they eat, what their names are, even what kinds of treats they get! The audio tour is free with your admission, and a great way to have a little extra fun!
How Are the Bathrooms?
There are nice bathrooms just inside the entrance of the zoo. They are very new and are well kept. There are mens, womens, and a family bathroom that includes a changing table for babies. However, while the outside of the new bathroom building is beautiful, it's still a zoo bathroom and a little…rustic.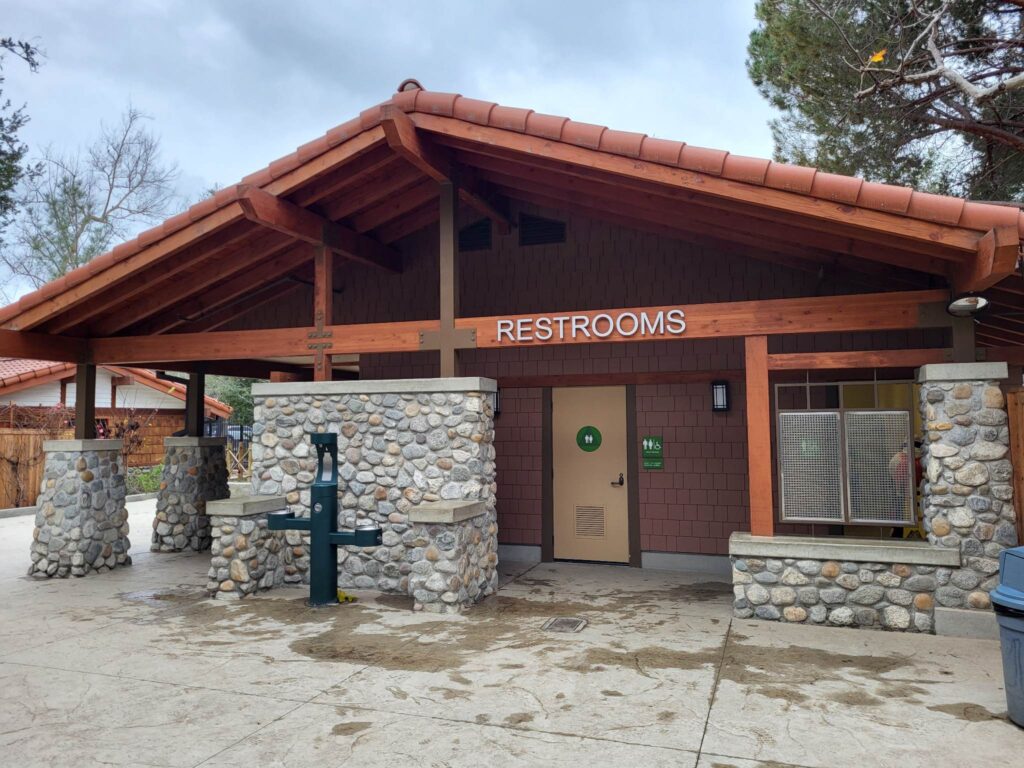 Is there Food at the OC Zoo?
There isn't food available for purchase inside the OC Zoo. However, just outside the zoo there is a snack shack with a full menu, including ice cream.
It's also a very small zoo, so you should be able to visit the whole zoo between feedings. Of course, we always bring a water bottle with us. There's a convenient – and clean – water bottle refill station just outside the bathrooms.
There are also lots of benches around the zoo where you can sit and have a snack if you brought one with you. Of course, it's a zoo, so make sure to keep your food away from the animals. And as always, pick up your trash!
What Else is There to Do Near the OC Zoo?
While we absolutely LOVE the OC Zoo, the truth is, it's a little far from Long Beach. And it's not a huge zoo, so you're not going to spend all day there. Luckily, the zoo is located inside Irvine Park, and there's a ton to do in the rest of the park!
You already paid your $5 park entry fee for your vehicle, so get your monies worth exploring everything else the park has to offer. Irvine Regional Park has a ton of things your kids will love, including:
Irvine Park Railroad
Pony Rides
Surrey and Bike Rentals
Paddleboat Rentals
Playgrounds
Hiking
Paths for scooters or bikes
Nature Center
To learn more about all of the other activities at Irvine Park, click here.
---
If you're up for a little exploration outside of Long Beach, make sure you add the OC Zoo to your list! Your kids will love it, and you will too – especially the price tag!
Looking for more adventures in Orange County? Try these fun activities just a short drive from Long Beach: