One of our favorite parks has got to be Los Cerritos Park in Long Beach. Los Cerritos Park is a 7 acre park featuring two amazing play structures, a ton of amenities, and a huge open grass hill. Featuring a ton of climbing, ADA accessible features, and a zipline, there's a ton to get excited about at Los Cerritos Park.
If you haven't been to Los Cerritos Park in Long Beach, you'll definitely want to add it to your to do list! Located in West Long Beach, in the Virginia Country Club neighborhood, Los Cerritos Park is a little off the beaten path.
Planning to check out Los Cerritos Park? Here's everything you need to know to make your visit a success!
Planning a Visit
Los Cerritos Park is located at the end of Bixby Road where it meets Virginia Country Club Drive. The playground is at the far end of the park, and offers a remote and quiet park experience.
For best directions, you can use the address 3750 Del Mar Ave, Long Beach, CA 90807.
What is parking like at Los Cerritos Park?
While there is no dedicated parking lot at Los Cerritos Park, the park is very large and completely surrounded by residential areas and an elementary school. There is always ample street parking, however, you may have to walk a short way to the playground.
What facilities does Los Cerritos Park have?
Los Cerritos Park facilities include:
2 Tennis courts
A very large grassy area
Picnic tables
2 Large playground structures
Water fountains including a water bottle refill station next to playground
Is Los Cerritos Park gated?
Los Cerritos Park is a completely ungated park and playground. Normally, we'd prefer a gate, but because of the playground being nestled at the bottom of a large green gentle hill, we kind of love it.
Kids can run and play games and we can keep an easy eye on them. Then they can transition right back into playground play. The zipline serves as a natural boundary from the playground to the rest of the park. So if you need to give your kiddos a "don't go past" mark – the zipline is a great point of reference.
Is Los Cerritos Park on a busy street?
Los Cerritos Park is completely surrounded by residential areas and an elementary school, so it's largely out of the way of any major traffic. (Exceptions include at the beginning and end of the school day during the school year).
However, the playground is down at the bottom of the park and is on a very calm street. If you've got a runner, you'll want to keep an eye out as the playground is close to that street where cars park, but not near an intersection or busy street.
How are the bathrooms at Los Cerritos Park?
The bathrooms at Los Cerritos Park are typical city park bathrooms, meaning functional but not the most well maintained. However, sometimes local parents and park visitors provide soap, so we have found more amenities than some bathrooms!
Of special note, the bathroom structure is pretty far away from the playground. To get to the bathroom, you need to head up a large – and long for little legs – hill. Make sure to point this out to little ones so they understand they need to give you a little bit of a warning so you can make it on time!
Does Los Cerritos Park have sand?
Yes! Los Cerritos Park has a lot of sand! The play structures are housed on a combination of rubberized material and sand. There are even those cute little diggers for your kids to use! So it's safe to say that sand play is encouraged at Los Cerritos Park.
Is Los Cerritos Park accessible for kids with disabilities?
As part of Measure A Improvements (the city's fund to update Long Beach parks) Los Cerritos Park sought to increase ADA accessibility. There is a circle swing that's great for kids that can't sit up and hold onto a traditional swing.
And those sand diggers we showed you earlier? There are two of them without seats for increased accessibility.
However, much of Los Cerritos Park's playground structures are not easy to navigate for kids with physical disabilities.
Does Los Cerritos Park have shade?
Los Cerritos Park boasts many large shade trees, as well as lots of open grassy areas in full sun. The play structures are built with some shade in mind, so your kids won't be in direct sun while playing. However, the zipline isn't in the shade, so make sure to lather up the sunscreen if you've got a zipline loving kid!
The swings have sun sails, however, so if you're going to be spending your day pushing your little ones on the swings, you'll be comfortable!
How many swings does Los Cerritos Park have?
Los Cerritos Park has two identical swing sets, each containing one "baby swing" and one "big kid swing."
Between these two swings sets is one large circle swing that can hold several children!
What is the best age range for Los Cerritos Park?
Los Cerritos Park is a great park for kids of all ages and stages! However, with lots of "big kid" features and opportunities to climb, you'll want to keep an eye on adventurous toddlers!
Is Los Cerritos Park a good place for a picnic?
YES! The large sprawling grassy hill is a wonderful place for a picnic. Los Cerritos Park has been host to Concerts in the Park for over 30 years, bringing hundreds of families together to picnic and listen to music. So even on the most crowded park day, there's plenty of space for you to lay out a blanket and enjoy your day.
Is Los Cerritos Park a good place for a party?
Parties are allowed at Los Cerritos Park, but it can get pretty busy on weekends! There are a few picnic tables, and a huge shady area, just adjacent to the playground. It's a perfect spot to set up some tables or tents of your own and use the playground as your parties entertainment. However, these spots get nabbed quickly, so be prepared to adjust accordingly.
There is a ton of green space, however, so there's definitely still room for you!
What do we love most about Los Cerritos Park?
Los Cerritos park has a BIG green space and a two HUGE play structures. Which means this park has a lot to love. Here's a breakdown of our favorite features!
Zipline
One of the most popular features of any park, we've found, is a zipline. And the zipline at Los Cerritos Park is no exception. Kids love to line up and take a ride, then line up again. From toddlers to teens, everyone gets in on the zipline action at Los Cerritos Park!
Slides for Days
Our kids LOVE to slide. And this park packs some serious slide punch. There are 2 sets of side by side racing slides over by the swingsets.
There are also 3 slides, of various sizes, at the "Little Kid" play structure.
Finally, on the "Big Kid" play structure there are FIVE separate slides!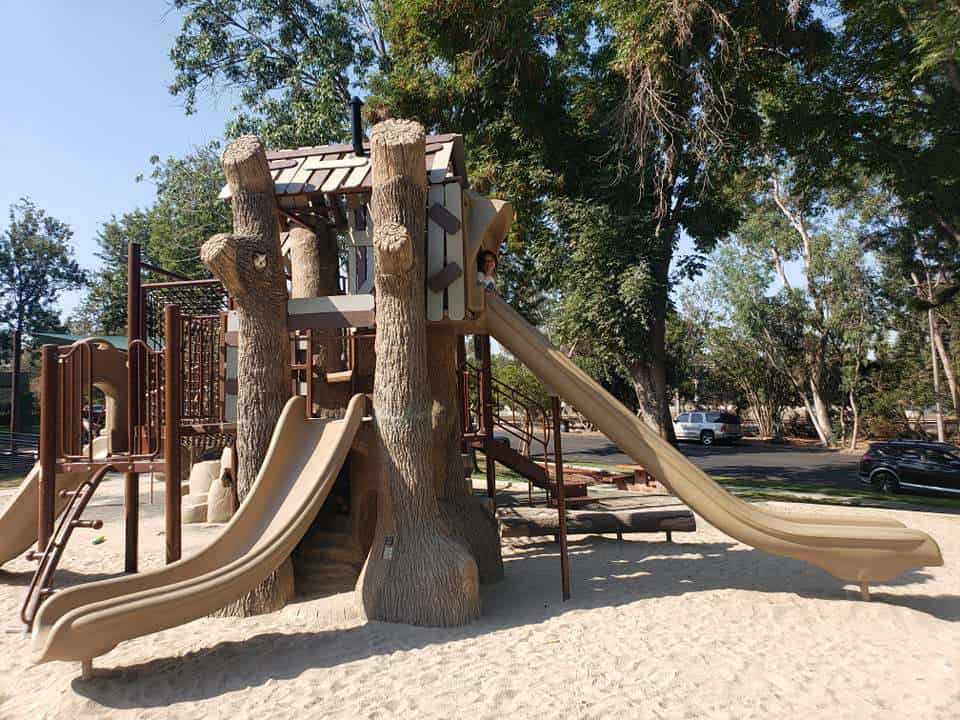 All these slides means if you want to slide, you can probably find one without a wait!
So Many Ways to Climb!
We love opportunities to practice gross motor skills, and Los Cerritos park is an amazing park to practice those skills. There are simulated rock climbing walls, "tree trunks" to climb, as well as ladders in a variety of styles.
Lots of parks have a ton of fun options for big kids, and the little kids area is lacking. But Los Cerritos park has a Little Kid playground that is rich in opportunities for younger children to practice their climbing as well.
Fun Treehouse Theme
I love how new playgrounds embrace a theme that can add to kids play. This playground is no exception. With a treehouse theme throughout, our kids love hopping on leaves and tree stumps and hiding in their own clubhouse.
We know your kids will love Los Cerritos Park as much as ours do!
Looking to try out some more fabulous Long Beach parks? Check these out next!