If you live in Long Beach, odds are you've never heard of this hidden gem: Clarkdale Park in Hawaiian Gardens. Featuring a playground, great swings, a basketball court and, oh yeah- an INCREDIBLE free splash pad- this neighborhood park will quickly become one of your favorite!
Y'all. I've lived in Long Beach for fifteen years now. 8 of those years were spent desperately trying to keep my kids entertained.
And I just found out about Clarkdale Park in Hawaiian Gardens THIS WEEK.
This park is SUCH a hidden gem, you guys. It's located less than a mile from the Long Beach Town Center, hidden in a small neighborhood. It's got easy parking, great swings, and a cute little playground.
But the real winner? The perfectly sized, perfectly free splash pad in Long Beach (that isn't technically in Long Beach…but I mean…close enough).
Read on to find out how to get to Clarkdale Park (and why you're going to love it when you get there!
This post contains affiliate links. You can read more at our disclosures page. Thanks!
Planning a Visit
You'd never know Clarkdale Park was there unless you went looking for it. The major crossstreets are Carson and Pioneer, but it's tucked into the neighborhood. You won't see it unless you A. Live in the neighborhood or B. Go Looking for it (and we suggest you do).
22008 Clarkdale Ave, Hawaiian Gardens, CA 90716
What is parking like?
Parking is street parking only. Make sure to be considerate of the neighbors (ie don't block driveways) and check the street sweeping signs!
What facilities are at Clarkdale Park?
Clarkdale Park in Hawaiian Gardens has a LOT to offer!
A basketball court
A skatepark
A picnic shelter
Swings
A playground
A splash pad
Is Clarkdale Park gated?
Sorry, moms of tiny tots! This park is not enclosed.
Is Clarkdale Park on a busy street?
Clarkdale Park is located close to the street, but it's not at all busy. It's a really quiet, neighborhood street with not much traffic.
How are the bathrooms at Clarkdale Park?
The bathrooms at Clarkdale Park are easy to access and centrally located.
The bathrooms each have one stall with a lock, clean sinks, and other amenities. They're slightly better than your typical park bathroom.
Does Clarkdale Park have sand?
We have good news for the sand-hating mamas! The ground at Clarkdale Park is made of concrete, grass, or recycled tire foam.
No sand to get in your shoes or your kids' suits!
Is Clarksdale Park accessible for kids of all abilities?
This splash pad in Long Beach (near Long Beach, anyways) is moderately accesible for those with physical disabilities. It is on a flat surface and has lots of areas to stand, sit, or wheel through and get wet.
Unfortunately, the playground and swings are not particularly accessible. They both require lifting, maintaining core strength, or climbing.
Does Clarkdale Park have shade?
The playground at Clarkdale Park in Hawaiian Gardens is well shaded, while the splash pad gets full sun.
Which, frankly, isn't such a bad thing, considering that your kids are going to need to be warm to enjoy all that water!
How many swings does Clarkdale Park have?
Clarkdale Park has two, "regular" kids swings.
It also features a pretty neat tire swing, which several kids can use at once (this was a BIG hit when we were there).
What is the best age range for Clarkdale Park?
The age range for this park depends on what part of the park you plan to use.
For the splash pad, swings, and playground, we'd recommend it for kids 10 and under.
However, the skate park and basketball court would be great for kids 10 and up. It could be a great solution for families with kids in both age groups, as you can keep an eye on both areas.
Is it a good place for a picnic?
Clarkdale Park would be a great place for a picnic! There is a small grass area where you can set up a picnic blanket, if you're so inclined.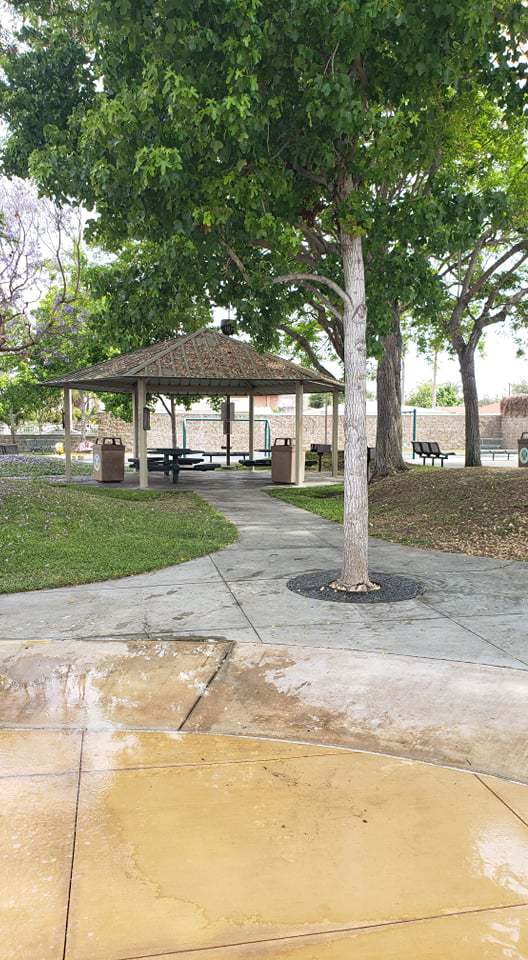 There is also a great picnic shelter with shade (available on a first come, first serve basis).
What do we love most about Clarkdale?
Well, let's be honest- there aren't a ton of free splash pads in Long Beach, or nearby. This splash pad is definitely a hidden gem, and kept our kids (ages 2 to 8) busy and happy for HOURS.
I also loved that the playground was close by. We had multiple kids with us, and it was easy to keep an eye on everyone as they went back and forth between the areas.
I also love that this park has a little something for everyone. Water play, a playground, basketball, and a skate park make it a great solution for all families, no matter what age their kids (or grown ups!) are.
---
Clarkdale Park is your best bet for a splash pad near Long Beach, with a perfect splash area for kids of all ages.
Whether you're looking to play, skate, play basketball, or get wet, Clarkdale Park in Hawaiian Gardens has a little something for everyone.
Looking for more local places to explore? Head here next-