Need an easy beach with kids in Southern California? Check out Mother's Beach in Long Beach! With shallow waters, no waves, and attentive lifeguards, this is one of the safest places to start going to the beach with kids in So Cal.

One of the first places I took my kids to the beach in Long Beach was Mother's Beach.
We were meeting up with some friends, and though I was nervous to take my toddler to the beach by myself, I decided to be brave and try it.
And, to use an appropriate pun, it was the perfect place to get my feet wet when it comes to taking kids to the beach.
I went on a weekday morning, so parking was easy. The water was warm and shallow. And the lifeguards were very safety conscious (which was a little annoying, but totally made me feel better).
We mostly go to beaches with deeper water now that the kids are older, but we still hit up Mother's Beach in Long Beach anytime someone with toddlers comes into town.
Read on to find out why Mother's Beach is the best beach for toddlers in Southern California (according to two moms who have been to pretty much all of them!)
This post contains affiliate links. As Amazon Associates, we earn from qualifying purchases. You can read more at our disclosures page. Thanks!
First Up…Why Do They Call It Mother's Beach?
They call it Mother's Beach for a reason- because it's the perfect place for moms (and dads!) to venture into a sea experience with their young kids.
While techinically a part of Marine Park, the stretch used for swimming is commonly referred to as Mother's Beach.
Throw in a super fun playground and easy "sea" faring, and you've got a place that little kids (and their parents!) are going to love.
Where is Mother Beach Located?
Mother's Beach is located on the southern end of Marine Park, with easiest access from Second Street.
Here's the address for mapping purposes: 5839 Appian Way, Long Beach, CA 90803
Where to Park at Mother's Beach
Parking is either really tricky at Mother's Beach or really easy, depending on the day and time you go.
The large, paid parking lot nearest the beach seems to be most people's preference. Howevet, the lot fills quickly (especially on the weekend) and you should be prepared to trek for neighborhood parking.
There is a stretch of free parking along Appian Way, if you get lucky. And if not, you'll likely find yourself parking in the neighborhood and walking. (Make sure to follow all posted signage and be respectful of the neighbors!)
Do you pay to park at Mother's Beach?
There are several free parking options, but we recommend that you bring money for the metered parking lot, no matter where you plan to park.
There are pay stations that accept cash or cards, which makes it simpler.
How far do you have to walk to the water?
This is largely dependant on where you park, but no matter which option you go with, you'll be walking a ways to get to the water.
There is a large stretch of grass between the parking lot and the sand, so you'll need to walk across that to get to the water.
Is Mother's Beach good for kids?
I mean, it got it's name for a reason, right?
The primary reason why Mother's Beach is the best beach for kids near Long Beach is the lack of waves. You might get a few from passing boats, but since it is part of a bay and not the ocean, you won't have to worry about waves bringing the kids down.
The water stays shallow for a good long while, and even when the tide is in, the water doesn't get super deep. My 5 year old can easily touch at all times.
The kids absolutely love the playground there. It's got tons of unique climbing equipment, so keeping the kids off the playground and in the water can sometimes be a challenge.
But the playground is also a great way to get the kids to dry off a bit before heading home, so we're all for it.
Are there bathrooms at Mother's Beach?
Yep! They are about as clean as any Long Beach park (so they're just okay).
Note that they are located on the north end of the beach, nearer to the playground. So plan your towel/tent location accordingly!
Are There Showers at Mother's Beach?
Mother's Beach does have outdoor showers to help rinse off the sand when you're done playing.
My favorite part about these showers is the placement. Kids have a sidewalk trail all the way back to the parking lot, so they won't get all sandy again on the way back to the car.
Is Mother's Beach Clean?
Generally speaking, Mother's Beach is pretty clean, with an average B water quality rating.
The water in the bay is not stagnant, so water doesn't sit around getting icky.
Water quality does change day to day. You should always check the water quality before you go at the City of Long Beach site. Note that it's never a great idea to go to a Southern California beach after a big rainstorm, as the water quality declines signficantly.
Is Mother's Beach Safe?
Lifeguards
Lifeguards are present during peak seasons and hours. They generally turn up around 10 on the weekends and summer weekdays.
And the lifeguards here are on top of it. Like, REALLY on top of it. When I was a newer mom, this used to annoy me.
But after I've seen some things- like a kid in a non-swimming area left on a inflatable and heading out to the middle of the bay (the same kid…twice in a row)? I'm glad the lifeguards at Mother's Beach bring their A game.
Is it on a busy street?
This end of Appian Way is an uncharacteristically slow part of this side of town. Pretty much the only traffic in this area is heading to Marine Park!
Beware though, as the parking lot can get pretty nutty in the peak. With a lot of sand and a wide stretch of gradd between your kids and the parking lot though, were betting you'll catch them before there's a problem.
Is there wildlife at the bay?
With so many people, there isn't much wildlife at Mother's Beach.
You may see teeny tiny little fish up at the shoreline, which your kids are probably going to want to try to catch.
Are boats allowed in Mother's Beach?
Mother's Beach has a designated swimming area, marked by buoys, to keep swimmers safe.
Sailboats, dragon boats, and motor boats all pass through the middle of the water, sending some gentle waves to shore. And expect to see LOTS of paddleboards and kayaks coming through.
However, boaters are very respectful of the swimmers near the shore. In fact, you'll often see them scooping up stray inflatables and returning them to their owners.
Is Mother's Beach Crowded?
The short answer? Yep, Mother's Beach is crowded. Probably the most crowded beach in Long Beach.
You'll do best if you get there early, before 10 am. You can set up shop and stay all day, or just get in a few hours before it gets slammed.
During the week, it doesn't usually get nutso. But on the weekends (as with most Southern California beaches) it can get BUSY.
What should you bring with you to the beach?
Here is what we think you should pack for the beach.
Towels
A picnic or beach blanket
Floaties for non-swimmers
Sunscreen
Water bottles
Snacks
Goggles
Sand toys
An umbrella or tent if you're staying more than a couple hours
Bluetooth speaker for music
A folding wagon to haul your stuff (especially on the weekend, when you'll likely park far away)
What do we love about Mother's Beach?
Everyone loves Mother's Beach, so there's a lot to mention here. If you asked me to pick my favorite parts though, here are my favorite features.
The Waveless Beach
No kid is totally safe in the water, but the water here is calm and clear. It's relatively easy to keep track of your kids, even in the water.
It's a pretty safe place for kids to swim, splash, and play, without worrying about a rogue wave taking them down.
All the People!
We almost always run into someone we know at Mother's Beach, so there's always someone to play with.
Even if we don't see someone we know, people are generally friendly and stay for a long time. Kids can make new friends and entertain each other for a long time.
The Shady, Grassy Area
I love that there is a break from the heat at this beach, in case you need it.
There is a long stretch of shaded grass, perfect for tossing a Frisbee, eating a picnic lunch, or just resting out of the sun.
The Playground
The park at Mother's Beach is epic. If there wasn't a beach nearby, we'd still recommend you hit up this playground.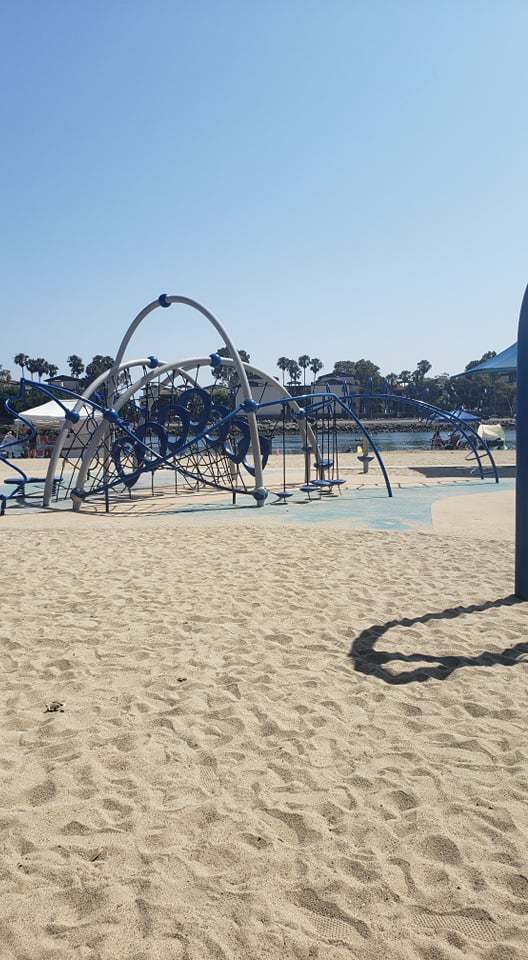 There are tons of unique climbers that your kids are going to want to be all over. There are also "rocks" to climb, multiple swings (including accessible ones!) and even fitness equipment.
As a matter of fact, my kids often spend just as much time at the playground as they do in the water, effectively doubling our fun factor.
---
If you're looking for a fun, family friendly beach in Long Beach, we think you'll find everything you're looking for at Mother's Beach in Marine Park (aka Bayshore Beach, aka Alamitos Marian, aka The Bay). It's definitely one of the best beaches for kids in Southern California, and certainly the most popular beach for kids in Long Beach.
Give it a try (and tell us what you thought in the comments afterwards!)
Looking for more Long Beach fun? Check out these other local attractions-