On the east side of town? Check out Bloomfield Park in Lakewood, a less busy park iwth a lot of bang for its buck!
I've lived in Long Beach for decades- eight of those years with kids in tow- and I've never been to Bloomfield Park before.
But this summer, we've made it our mission to visit every wading pool near Long Beach, and Bloomfield fit the bill.
We were expecting to love the wading pool (we always do), but I was surprised at how much the kids loved the green, open space and two (mostly) gated playgrounds for different ages.
Check out why we love Bloomfield Park, and plan your visit to love it too.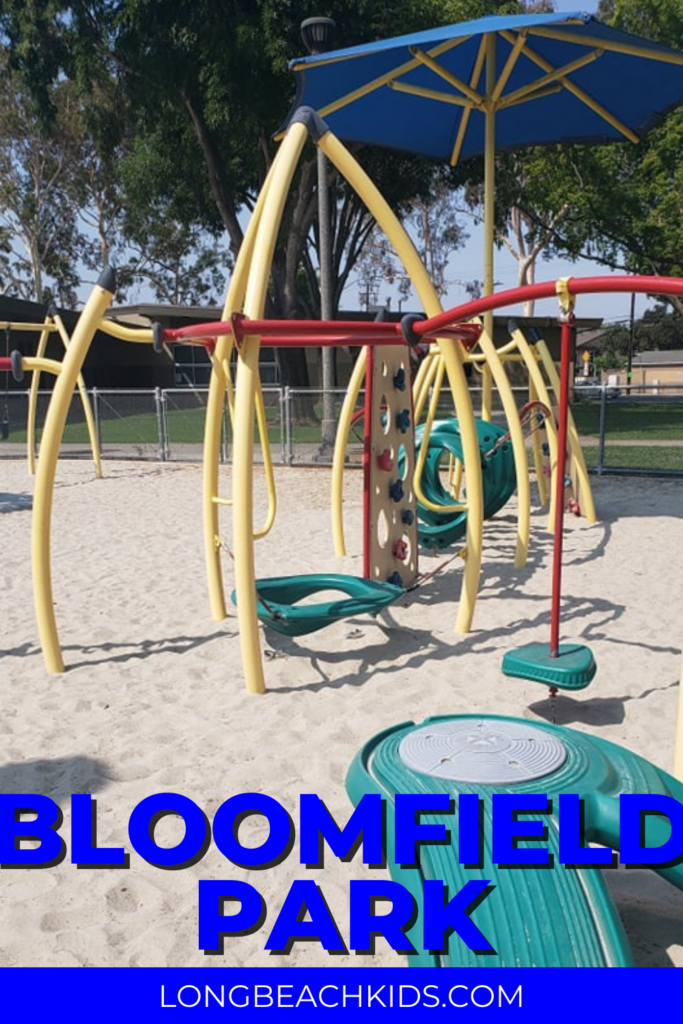 This post contains affiliate links. As Amazon Associates, we earn from qualifying purchases. You can read more at our disclosures page. Thanks!
Planning a Visit
Biscailuz Park is located in Lakewood, near the border with Hawaiian Gardens.
It is close to the Long Beach Towne Center (and one of our favorite splash pads, Clarkdale Park), so it's easy to talk the kids into running errands with you with the promise of park play afterwards.
Here's the address, for your GPS purposes: 21420 Pioneer Blvd, Lakewood, CA 90715
What is Parking Like?
There is a large, dedicated parking lot on the west side of the park, along Pioneer.
What Facilities are at Bloomfield Park?
For a small, quiet park, Bloomfield Park has some great facilities!
A large playground with separate "Big Kid" and "Little Kid" play structures
Two basketball courts
Baseball Diamonds
Shaded picnic structures
A community room
A wading pool
Is Bloomfield Park gated?
One of our absolute favorite things about Biscailuz Park is that the "Big Kid" and "Little Kid" structures are next to each other – and both the "Big Kid" and "Little Kid" structures are enclosed!
Be aware that there is a small gap in the fencing along 215th Street, which is somewhat busy. We recommend posting up there so kiddos don't escape.
Is Bloomfield Park on a busy street?
Bloomfield Park is located off Pioneer St., which is a pretty busy street. However, the parks are located closer to slower streets, and mostly separated by grass or a large, sleepy parking lot.
The playground is enclosed (except for that tricky part on 215th we warned you about!) so the streets are not generally a problem. Parents, as always, should supervise.
How are the bathrooms at Bloomfield Park?
The bathrooms are very clean and well maintained. They're locked nightly and are generally well stocked with toilet paper and hand soap.
When we arrived at around 10 am, the bathrooms were not yet unlocked. However, Bloomfield Park has a dedicated maintenace crew. Find them, and they'll let you in if needed.
The bathrooms are located just to the right of the playground in the same building as the community center.
Does Bloomfield Park have sand?
Bloomfield Park definitely has sand! A lot of it!
If you want to get to almost anything in the playground, it's probably surrounded by sand!
Is Bloomfield Park accessible for kids of all abilities?
Unfortunately, Bloomfield Park is very heavy on climbing and very heavy on sand. If you're looking for a more accessible option nearby, parts of Del Valle park might be a better option.
Does Bloomfield Park have shade?
The play structures at Bloomfield Park are in full sun all day long.
However, there are nice shady areas in other parts of the park, where kids can take a break from the heat.
(See also the wading pool section, in the summer.)
How many swings are at Bloomfield Park?
In the Little Kid playground, there are 2 infant bucket swings and two "big kid" swings.
The big kid portion has six big kid swings, so there's almost always swings available.
What is the best age range for Bloomfield?
The Little Kid play structure is perfect for kids 5 and under. It's got lots of ways for little legs to climb, slide and pretend play.
The big kid playground is best for school aged children 5 to 11.
Is it a good place for a picnic?
Bloomfield Park has lots of great places to enjoy a picnic with your kids. As you arrive, there is a shadewd picnic structure.
There are also tons of shady trees, some with picnic tables underneath. A picnic blanket is always handy to keep in the car for picnicking needs, too!
Can you have parties at Bloomfield Park?
City of Lakewood does issue permits for structures and facilities to residents, such as the picnic structures or community rooms. If they are not reserved, they are available for use on a first come, first come basis.
As of this posting (check here for the latest information), you can hold casual parties with your own set up in the grassy areas, too. No bouncers, full tents, or food trucks, taco trucks, etc are allowed.
You also may not hold a party within a fenced in playground, so setting up shop inside the Little Kid Playground wouldn't work. Instead, set up your party on the grassy area next to it.
How is the Wading Pool at Bloomfield Park?
After a survey of all the wading pools in Lakewood, I think Bloomfield Park might be my favorite (it's a close runner up to the pool at Mayfair Park, anyways).
The sprayers there are lots of fun, and there are some spots to keep water out of your eyes, too.
My favorite part is the amount of shade, the most I've seen at a Lakewood Wading Pool. We went when the pool opened at 11, so your experience may vary.
What do we love most about Bloomfield Park?
Bloomfield Park is quiet, grassy, and pretty chill. It's a nice place to meet up with a friend for a playdate, without a ton of interruptions from other kiddos.
The amount of sun on the playgrounds is difficult in the summer, but it makes it a more pleasant park in the winter months. You can play without the kids complaining about the cold on most days.
The Little Kid Playground is a SUPER fun one. I often find that Lakewood parks have newer big kid playgrounds, and don't always update the Little Kid ones. But that only makes the playground at Bloomfield Park more exciting!
There are tons of ways to climb on this one, and it's got lots of fun slides, balancing opportunities, and sensory-friendly ways to play.
Pro tip: challenge your kids to a series of obstacle courses to help them practice their gross motor skills. Think: "Across the balance beam, up the play structure, through the hanging circle things," etc. (Sidenote: what the heck would someone call those hanging circle things, anyways?)
The big kid playground is plenty exciting, too. There are steep slides, lots of ways to climb, and a cool teeter totter the kids LOVED.
Looking for more local parks to visit? Head here next-