Looking for a great indoor play place that's fun for kids of all ages – and sizes? Kids Empire in Anaheim is great for the whole family – including toddlers and tall kids! Here's everything you need to know to visit Kids Empire!
My kids love an indoor play place. They love the slides, the giant structures, and the freedom to run wild! So my son's heart was absolutely broken when he became too tall for some of our favorite kids indoor play places in Long Beach.
Once he was too tall for KidzTown, we had to look elsewhere, which meant looking for a kids play place near Long Beach. Thankfully, Kids Empire is just a short drive south to Anaheim and was everything we were looking for.
So if you're looking for big slides, a giant maze, and lots of fun, make sure to check out Kids Empire in Anaheim!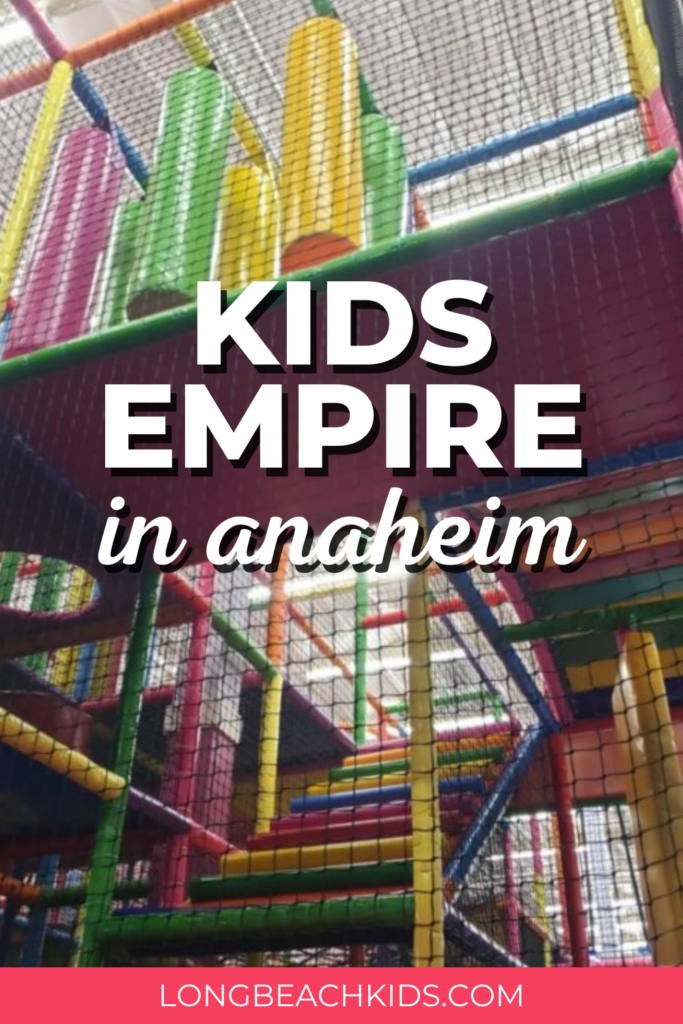 This post contains affiliate links. As Amazon Associates, we earn from qualifying purchases. You can read more at our disclosures page. Thanks!
Planning a Visit
Kids Empire is open daily – Monday through Thursday, 10am to 8pm, weekends and holidays 10am to 10pm.
For Googling purposes, the address is: 2078 E Lincoln Ave, Anaheim, CA 92806
Note that Kids Empire is tucked away in a shopping plaza, so you can't see it from the street. Turn into the Anaheim Town Square and it's hidden back in the corner (near the Target!)
How Much Does Kids Empire Cost?
Kids Empire is pretty comparable to other indoor play places in Long Beach, if not a better deal! Kids are $19.95, which sounds steep, but 2 parents can attend FREE with the purchase of a child's entry. They also don't charge for babies under 1 with a parent.
The best part of the Kids Empire entry price is that the price is for an all day admission WITH in and out privileges! So rather than paying for an hour or two, you can go, take a break for lunch, run an errand to Target and come back for more fun.
Can I Bring My Own Food to Kids Empire?
Unfortunately, outside food and drink are not permitted inside Kids Empire. However, they have a great snack bar if your kids get hungry. You can grab chips, cookies, or a PB&J lunch pack. There are also a wide variety of drinks – including 2 Liter sodas (which appealed to me if I was going with some Mom friends!)
We thought the prices were fairly reasonable (comparatively) and loved that there was a large – and delicious – ice cream selection!
Additionally, because of the in and out privileges, you can come and go if you need lunch! In the same shopping plaza as Kids Empire, you'll find a Waba Grill, Applebees, Burger King, KFC and Hawaiian King BBQ. We love that you can leave and get a fast and delicious lunch and come back for more fun!
What's the Best Age Range for Kids Empire?
Our favorite thing about Kids Empire is that all of our kids could enjoy it. From babies to adults, there's something for everyone.
There's a toddler area for kiddos in diapers. Unlike some places, they seem to do a pretty good job keeping this area for toddlers ONLY. It's on the smaller side, as toddler areas go, but with a couple small slides and a ball pit, our 2 year old was very happy with it.
Our other kids all loved the HUGE maze area and GIANT slides. Best of all, my tall 9 year old wasn't too tall to play! With no height restrictions, tall kids and adults alike are allowed on all parts of the maze and slides.
Adults are able to play in all areas as well, which also comes in handy when toddlers want to explore the bigger area or when kids decide they don't want to leave and hide in the maze.
Not that our kids would EVER. But, you know, hypothetically.
What Do You Do with Your Stuff?
Like most indoor play places, socks are required – so you need a spot to store your shoes! Upon entering, there are handy little bins with handles you can put your belongings in. You can store those in a cubby, in a rented locker, or just keep them at your table.
It was probably my favorite set up I've seen at an indoor play place. It was very easy to take care of and the bins were the perfect size for tiny hands to help out as well.
Can I Take Lots of Kids with Me?
You can easily take lots of kids to Kids Empire. I have five children 9 and under, so I'm always looking for places they can all enjoy where I won't feel anxious about losing someone! Kids indoor play places can be a challenge, especially if they have lots of points of entry and exit.
Kids Empire has a fantastic setup in that the Giant Maze is in one area and from one of the nearby tables you can see all the points of entry and exit without having to walk around. Your kids can't go anywhere without walking past a common area.
However, the toddler area is far on the other side of space, so you either need to trust your big kids or get a few steps in walking back and forth.
Of course, there is a locked gate barring anyone from existing without their adult, so even if kids get out of the Maze without you seeing, they can't leave the building.
What Is There to Do at Kids Empire?
The Giant Maze
The big draw is the Giant Maze. It has a ton of classic play place components, like spinners, bridges, balance beams, tunnels, and tons of ways to climb. It also has some pretty cool features not found everywhere else!
BIG Slides
Yes, lots of play places have big slides, but these take it to another level! There's a wavy slide that can entertain up to 5 sliders at once. There is also a huge and steep pink slide that really sends you flying! (This slider might have been afraid the sheer speed ripped a hole in her leggings. I am happy to report that it did not). There's also a long roller slide, complete with sleds for riders to roll on. All three slides were a huge hit with my kids!
Soccer Field
It might take a minute to find it – because it's on the second story of the maze! But once your kids locate the entrance to this super cool soccer field, expect to not see them for a while! This was a great place for my kids to play together and is a great place to make some new friends.
Ride on Motorcycles
Note: These motorcycles are an additional charge, so prep your kids ahead of time if you plan to skip this part of Kids Empire. However, as far as upsells go, they're pretty reasonable. You can buy a "pay to play" card for air hockey, claw machines (with guaranteed wins!), and the motorcycles.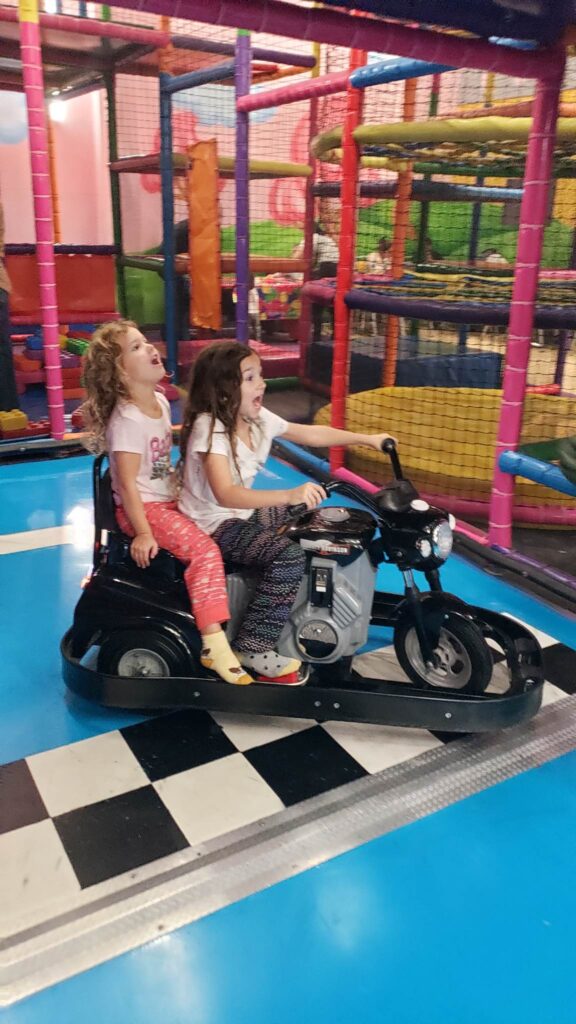 I usually say no to everything, and actually found myself saying yes to this! For $10, I could get a play card that would allow my kids to go on about 10 motorcycle rides. Plus, each motorcycle can seat two kids, so it ended up being a lot of rides – or you can always save some for your next visit!
Building Bricks
My little Lego lovers were ready to get their brick on in this fun brick area! The Lego-style bricks have curved edges and are a little soft, so it's fun for all ages. It's a great place for your younger child to play if you have older kids in the Maze and don't want to be running back and forth to the toddler area.
Toddler Area
The toddler area, while small, has a lot of great features younger kids will love. There's a ball pit, small slides, different ways to climb – and even a tiny trampoline that gives just enough bounce to get a good giggle. My older kids were actually a little jealous that the toddler area boasted the only ball pit.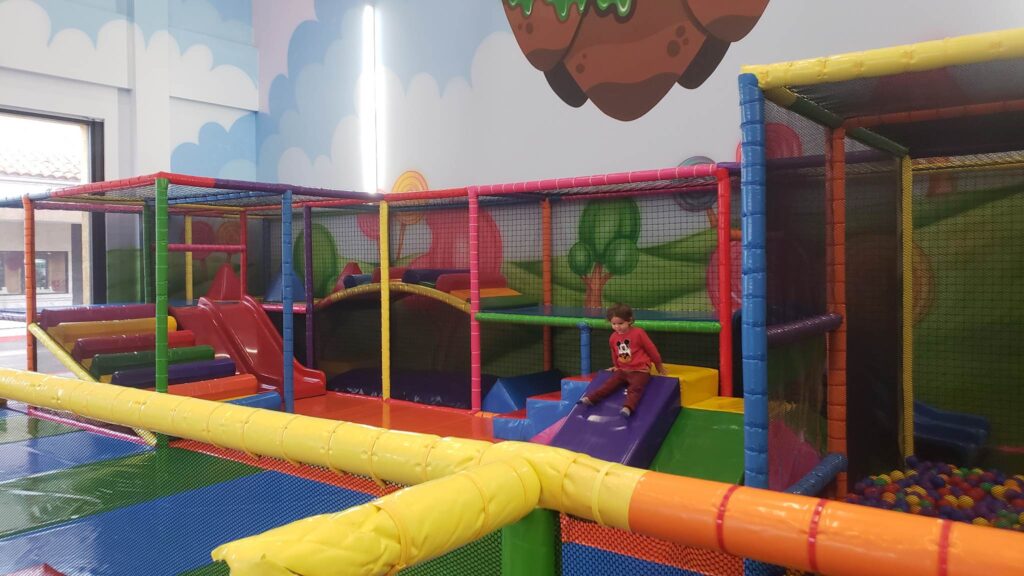 Dance Party
There is also a cool room near the center of the facility that has a whole dance party going on! It's got black lights (my kids love anything that makes part of their clothing glow!), great kid friendly music, and is a fun way to take a break from the climbing while still having a great time.
---
Whether you need to beat the heat, get out of the rain, or just get busy bodies moving, you won't regret spending a few hours at Kids Empire in Anaheim.
Your kids will leave exhausted and you'll feel satisfied that you pulled off a great day!
Looking for more fun places to play with your kids? Head here next!