Looking for a fun, secluded playground with lots of opportunities for playing and picnicking with an incredible view? Check out Discovery Well Park in Signal Hill with your kids for lots of fun.
Long Beach and the surrounding areas – like Signal Hill – are home to some amazing parks, and Discovery Well Park is no exception. At nearly 5 acres, Discovery Well Park has an amazing new playground, as well as a 2 picnic shelters, a community center, basketball and pickleball courts, and a ton of green space for kids to run explore and play.
There are lots of reasons to visit Discovery Well Park in Signal Hill – and here are some of our favorites.
This post was edited, May 2023 to reflect the new playground.
This post contains affiliate links. As Amazon Associates, we earn from qualifying purchases. You can read more at our disclosures page. Thanks!
Planning a visit to Discovery Well Park?
Discovery Well Park is located in the heart of Signal Hill. Located at the very top of Signal Hill, Discovery Well Park is almost completely hidden – if you don't know where to look!
Discovery Well Park is located at 2200 Temple Signal Hill, CA 90755.
How is Parking at Discovery Well Park?
Discovery Well Park is nestled down a large hill off of Temple and Hill Street, so street parking isn't really an option. There is a small parking lot for visiting the park, so you should be able to find parking there when you visit.
What Facilities are at Discovery Well Park?
Discovery Well Park is an amazing park in terms of amenities.
Here are some of the amenities:
Large playground
Basketball half court
Pickleball Court
Barbeque areas
Shaded picnic tables
Picnic shelters
Restrooms
Is Discovery Well Park Gated?
Discovery Well Park is not enclosed with a fence, however, there is a large hill surrounding most of the park.
Is Discovery Well Park on a Busy Street?
Discovery Well Park is down a very steep hill off two busy streets. Even if your kid is a runner, they'd have a very hard time making it to the street. There is nothing to separate the playground from the parking area, however, so you still need to be vigilant with your kids.
How are the bathrooms at Discovery Well Park?
There are bathrooms at Discovery Well Park, and they are some of the best you'll find at a public park! They are generally very well maintained with toilet paper, paper towels – there's even consistently soap inside! If you do find a problem, there's a phone number on the door where you can report any maintenance issues. In our experience, this ensures that even if there's a problem when you visit, it won't be a problem when you return! And we'd return to just about any park for a clean bathroom!
Does Discovery Well Park Have Sand?
Great news for Mamas that hate sand: Discovery Well Park is a completely sand free park! Don't get it wrong, our kids love sand, but sometimes it's nice to visit a park and know you won't be bringing most of the sand home in their shoes! Instead of sand, this park has completely rubberized surfaces, so you won't bring any souvenirs home in their shoes.
Also, the rubberized matting was just completely replaced, so if you remember it as being a little….worn….it's all new!
Is Discovery Well Park Accessible for Kids of All Abilities?
Unfortunately, Discovery Well Park has not been updated to have increased ADA features.
Does Discovery Well Park Have Shade?
One of our biggest complaints about the old park was the complete lack of shade. They seemed to have taken our concerns to heart with this new design!
The new swing area is completely covered by a large shade.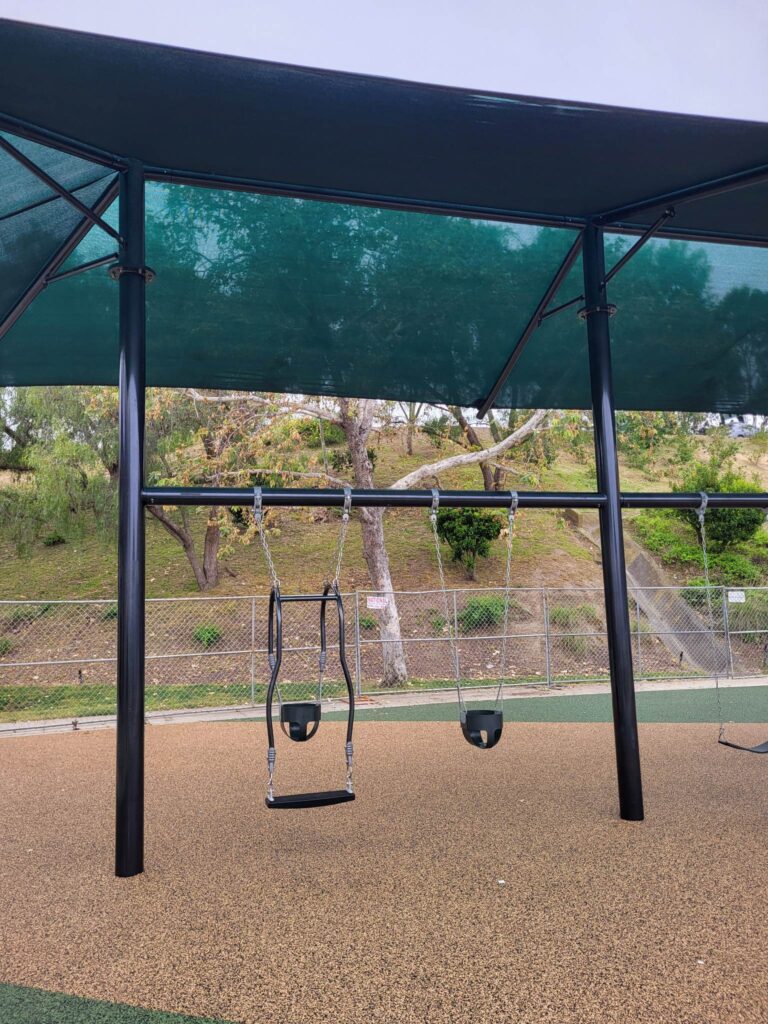 The main play structure also boasts added shade! There is a large umbrella that covers some of the climbing structure. The slides are still out in the open, so you'll still want to sunscreen up of course! But it's a vast improvement over the old playground.
How Many Swings are at Discovery Well Park?
The upgraded playground at Discovery Well Park has baby swings, "big kid" swings AND a "Grown Up and Kid" swing that is perfect for those days you just want to sit and swing instead of push! As mentioned, all the swings are under a shade, making it a much more comfortable experience.
What is the Best Age Range for Discovery Well Park?
While the posted signage at Discovery Well Park indicates that the playground was designed for kids ages 5 to 12, in our experience much younger kids can also play and have a fun time. There are slides of various sizes, including a "racer slide" for 3 that was manageable for our toddlers.
There are huge slides for the big kids and some areas for pretend play that cater to kids of all ages and abilities.
Older kids and teens can also enjoy the sports courts and the large grassy area which is great for soccer, Frisbee, flag football and tag.
Having a Picnic at Discovery Well Park
Discovery Well Park has two shaded picnic structures, perfect for a small gathering or just a shady spot to park your stuff on an afternoon visit.
If the shelters have already been claimed there are also a few picnic tables strategically located under some great shade trees. As a last resort you can always bring some shade of your own (we love this pop up shade tent) and a picnic blanket utilize some of the ample grass for your picnic.
One note: there are pockets of clover in the grass, so be mindful when setting up a picnic on the ground as you may encounter some bees!
Can You Have a Party at Discovery Well Park?
Discovery Well Park is a great spot for a party with lots of options if you choose to reserve a space.
You can reserve either of the picnic shelters and/or jumper space for parties. (Note that shelter rentals are limited to 4 hours).
Unfortunately for us living in Long Beach, the shelters are currently only available for reservations by Signal Hill residents. For the most up to date information on reservations and other restrictions, visit the Signal Hill Parks Facilities site here.
What do we Love Most About Discovery Well Park?
I love Discovery Well Park because it's set off from major roads and I can relax a little bit more when trying to keep an eye on multiple children. There are also some unique features making Discovery Well Park a very special place. Here's a breakdown of the best things about Discovery Well Park:
A Park with a View
Discovery Well Park has, hands down, one of the most amazing views of inland Long Beach. On a clear day, you can have a spectacular view of the Los Angeles mountains. Also, Long Beach Airport is in the direct line of sight making it a really fun place to watch airplanes take off and land.
Unique Play Features
Discovery Well Park's new play structure boasts an awesome bee theme that is woven throughout the design. Children are greeted by this large bee, which got a surprising amount of attention from our kids!
My kids love to slide, and this park BRINGS IT in the slide department. There are 2 large plastic twisty slides and a great roller slide! That's in addition to the smaller racer set of 3 slides mentioned earlier. If your kids love to slide – and slide fast – this park is for them!
Our kids biggest concern for the new park was the merry go round. These are so hard to find at parks, they were worried it would be gone. We were all relieved to see that it was replaced with a new design that was deemed even safer – and more fun – than the last model!
Pretend play is also a big hit for my kids, so they were very excited that pretend play wasn't just an afterthought at this park. There's a whole little house complete with kitchen burners! We love that there really is something for everyone at Discovery Well Park!
Walking Paths
We love spending a lot of time outside. Yes, that means playgrounds, but it also means just running around and going on walks. So we love that Discovery Well Park has access to some great walking paths. Be mindful that these paths go through a Private Community and are only for public use from sunrise to sunset.
We hope that you'll love Discovery Well Park as much as we do!
Looking for more nearby parks to enjoy? Head here next –