One of the coolest playgrounds you probably haven't been to is Juniper Beach Playground. Unless you're at the beach, it's not the kind of playground you might just stumble across or see from the street. But if your kids like climbing, there is no better park in Long Beach for them to test their skills!
You may have heard of the new beach playground but had a LOT of questions. (We did!) So we set out to find the new beach playground in Long Beach and bring you all the answers. First off – it's officially called Juniper Beach Playground. Now that you've been able to find it on a map, you probably still want to know a few things before you head there for your first visit.
If you're wondering what age is best or where do I park to go to Juniper Beach Playground – you've come to the right spot! We've tried to answer every question you might have about this new climbing park in Long Beach. And if we missed a question, drop it in the comments and we'll try to answer it!
Planning a Visit
Located off Ocean Ave and Junipero, Junipero Beach Playground is at the bottom of a driveway down to Junipero Beach access. For Google Maps purposes, use the following address to help you get to the parking lot: Junipero Beach, 1 Junipero Ave, Long Beach, CA 90803
How is Parking at Juniper Beach Playground?
The best parking for Juniper Beach Playground is at the Junipero Beach Access Parking, which means you'll share parking with beach-goers and folks grabbing a bite to eat at Saltwater Deck. Depending on the day and time you visit, we've found there to be ample parking. If, however, you visit on a hot summer weekend, you may need to find parking on Ocean and walk down to the playground.
The Junipero Beach Access lot is a paid parking lot, so make sure to bring a method of payment with you.
We recommend visiting Junipero Beach Playground early mornings to get the great parking and enjoy the climbing structure before it gets too crowded.
What Facilities are at Juniper Beach Playground?
This new beach playground in Long Beach is not a park that has a TON of ammenities. It's really all about the climbing structure. There is a bike path adjacent if you want to bring bikes down and a basketball court. However, that's about it. Having said that, you really don't need more than this incredibly structure.
Is Juniper Beach Playground Gated?
The new beach playground isn't gated so if you've got a smaller kid that's REALLY excited at the idea of running straight into the surf – be warned! However, the playground and beach climbing structure are also very far from the water. One side of the playground faces the ocean (again, a very good distance away) and the other side backs up to a bike/jogging path, so there is somewhat a natural boundary.
How Are the Bathrooms at Juniper Beach Playground?
The bathrooms are not just standard park bathrooms, but are also BEACH bathrooms. As always, we recommend going to the restroom before you head to the park. Having said that, on our isit, we took a peek inside and they honestly weren't all that bad.
Does Juniper Beach Playground Have Sand?
Seeing as how the new beach playground in Long Beach is….AT the beach. Yes, there's sand. Lots and lots of sand. However, seeing as how this playground is on the beach, we'll allow it this time!
What is the Best Age Range for the New Beach Playground?
Juniper Beach Playground is designed for kids that LOVE to climb. However, I'd definitely take it a step farther than that. Your kid should not just love to climb, but should also be pretty darned good at it. And not afraid of heights. I went with kiddos age 1 to 9, all pretty proficient climbers for their age groups. While the posted age range is 5 and up, my almost 6 year old found it to be a bit of a challenge.
There are a few lower things to climb if your kid gets a little scared. Rope ladders, monkey bars and other unique (and low to the ground) climbing opportunities are available as well.
Are There Swings at Junipero Beach Playground?
Junipero Beach playground doesn't have swings in the traditional sense. There are two large circle swings that can fit a couple kids each. Luckily for my crew, they love these! However, if your kid wants to practice pumping their legs (or you don't want to push swings the whole time) this might not be for you.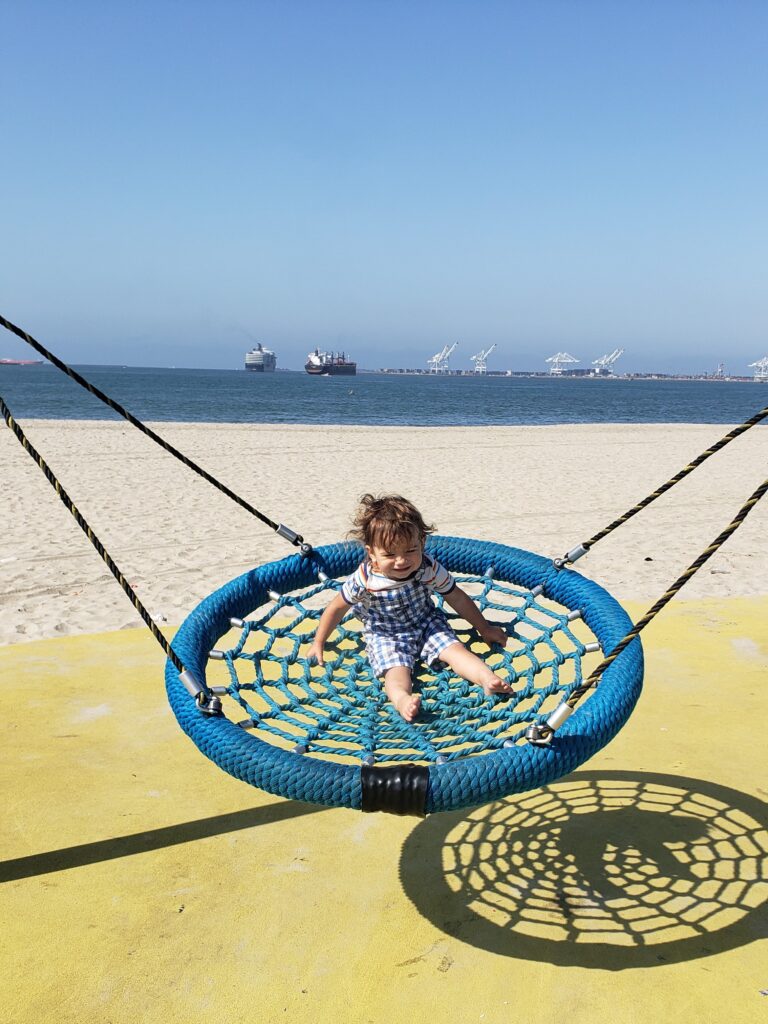 Having said that, toddlers love these swings. So if you've got big ones that want to climb, there's something for younger ones to enjoy.
What Do We Love Most About Junipero Beach Playground?
The Best Climbing Park in Long Beach
We've visited a ton of parks over the last ten years and we've got to say that this is, hands down, the best climbing park in Long Beach. It's so unique and unlike anything else you'll find around. With two massive climbing structures, leading to huge slides, this park provides a challenge beyond compare.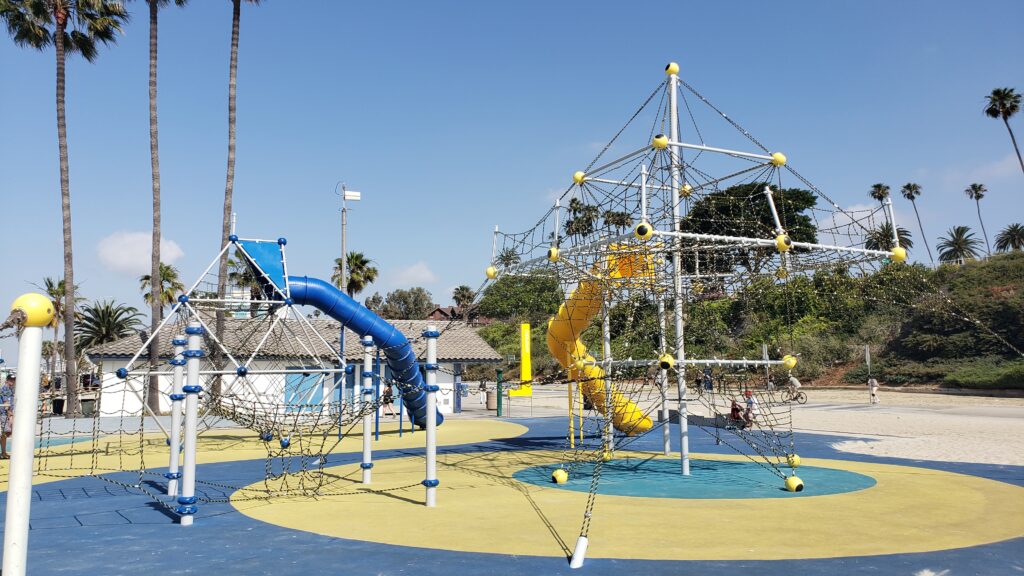 The View
Another thing that sets this playground apart is the scenery. You're not in the middle of the city or nestled in a neighborhood. You're ON the beach. While we visited Junipero Beach Playground, we saw cruise ships, smaller boats, the oil islands, and of course, the ocean. On a clear day, you can't ask for a better view while your kids play!
Access to Food
Immediately next to Junipero Beach Playground is Saltwater Deck, offering a delicious assortment of food and drinks. The breakfast burritos are the talk of Long Beach Food Scene and the coffee will help fuel your day! Burgers, sandwiches, hot dogs and grilled cheese and much more is also available. This easy breakfast and lunch spot couldn't be more delicious or convenient!
Fun for Adults Too!
What we mean to say is, if your kid freaks out in the middle of a structure, and you have to rescue them, it's totally strong enough for full grown adults. And while you might feel your age the next day, your kids will be glad that you were able to join them – and coach them – through their first experience.
Don't take my word for it! Here's my 6'7″ husband right after he helped get our 5 year old to the top – and down that slide. Before she went over and over and over again on her own!
Looking for more fun things to do for kids who love to climb? Check out these other local spots we know your kids will love!