Want to check out the brand new Cherry Park Long Beach update? If you live in the area, you've probably been anticipating it as much as we have. With a grand opening on July 24, 2021 the new playground at Cherry Park is amazing and was worth the wait! Here's what we think you should know before you go!
Many of Long Beach's playgrounds are getting a MAJOR Glow Up thanks to Measure A, and Cherry Park is the newest addition to the new playground club. We try to check out all the new and improved playgrounds, and Cherry Park playground is fantastic! Cherry Park Playground has so many elements that our kids love – climbing, tons of slides, and yes, plenty of swings.
At over 10 acres, Cherry Park is more than just an amazing playground update. With a ton of amenities and opportunities for sports and recreation, we know you'll find something to love at Cherry Park.
Read on to find out why we love the new Cherry Park playground so much, for kids of all ages.
This post contains affiliate links. As Amazon Associates, we earn from qualifying purchases. You can read more at our disclosures page. Thanks!
Planning a Visit
Cherry Park is located just north of Cal Heights, off Cherry between Carson and San Antonio.
Here's the address you can use for Google Maps: 1901 E. 45h Street, Long Beach, 90807
What is Parking Like?
There is a dedicated parking lot off Cherry Ave. near the baseball diamonds. However, it's a bit of a hike if you're heading to the playground. Also, the lot fills up quickly on weekends due to lots of folks taking advantage of all the sports courts and amenities.
We prefer to take advantage of street parking on 45th Street. The street parking is just an open field away from the playground, so kids can take off running to the playground – while staying in your eyesight!
What Facilities are at Cherry Park?
While it's the new playground at Cherry Park that is getting all the attention, it's not the only thing to enjoy at Cherry Park. This park is HUGE, with lots of amenities for families with kids of all ages:
A big kid play structure
A little kid play structure
Basketball court
Tennis court
Street hockey field
Volleyball court (bring your own net!)
Multiple baseball diamonds
Lots of green space
Lots of picnic tables
As a note – with so many sports courts, be prepared for Cherry Park to be host to lots of games on weekends!
Is Cherry Park gated?
The playground at Cherry Park is not gated. However, the playground has a fence on one side (separating it from the street hockey court), a community center on another, and a large field. So while it's not enclosed, the playground is very protected.
Is Cherry Park on a busy street?
Cherry Park is located off Cherry Avenue, which is a VERY busy street. However, the playground is also VERY far from Cherry Ave. If your kid is a runner, they'd have to navigate across baseball diamonds and a large field to get to the street from the playground.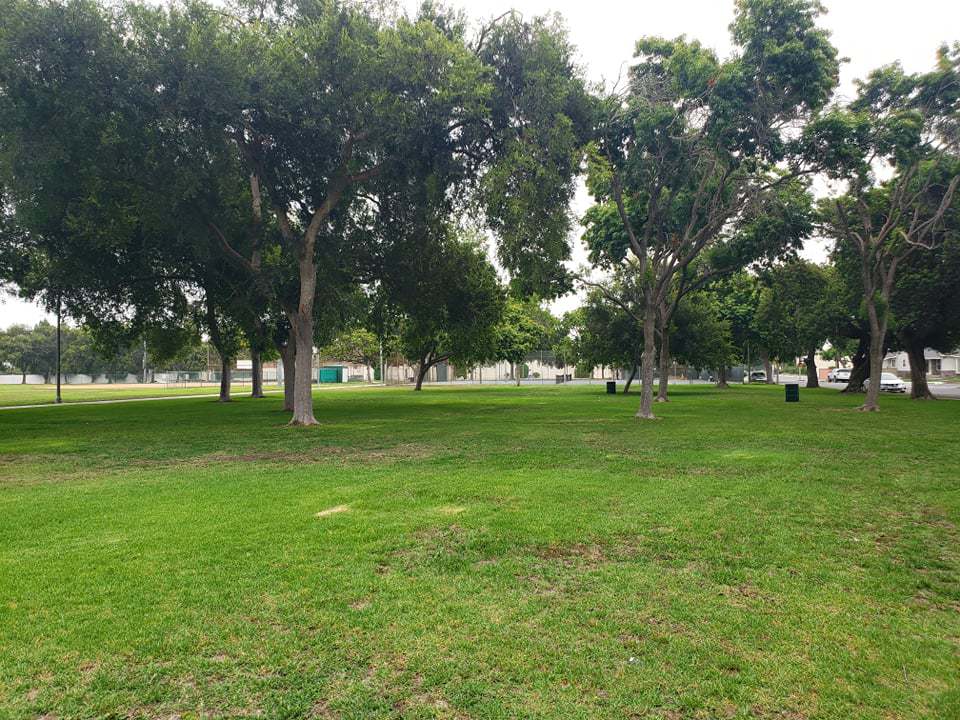 While the park is bordered by a major street, the playground is located closer to the neighborhood. The closest street to the playground is 45th Street, which is mostly a nice, quiet street. Occasionally cars do turn off of Cherry Ave going way to fast for this cautious Mama, so keep an eye out, but know you can unload your car safely.
How are the bathrooms at Cherry Park?
The bathrooms at Cherry Park appear….rustic….at best, when viewed from the outside. And while we love the Cherry Park Playground update, we wish the bathrooms had gotten a makeover as well.
BUT, the inside of the bathrooms was pleasantly surprising! Real toilets (not those metal things you find in some parks!), and clean, well-maintained bathrooms were inside. You might want to bring your own soap, but you will find quality toilet paper – which is a win!
Does Cherry Park have sand?
Cherry Park has a blend of sand and rubberized matting. Lots of the slides end in the sand, but lots of the climbing opportunities begin on the matting. Plus, we love that the baby swings are accessible by staying on the matting. We sometimes visit the park with a baby sleeping in a stroller, so there's enough rubber floor that I can easily navigate my way around and keep an eye on my kid without going in the sand.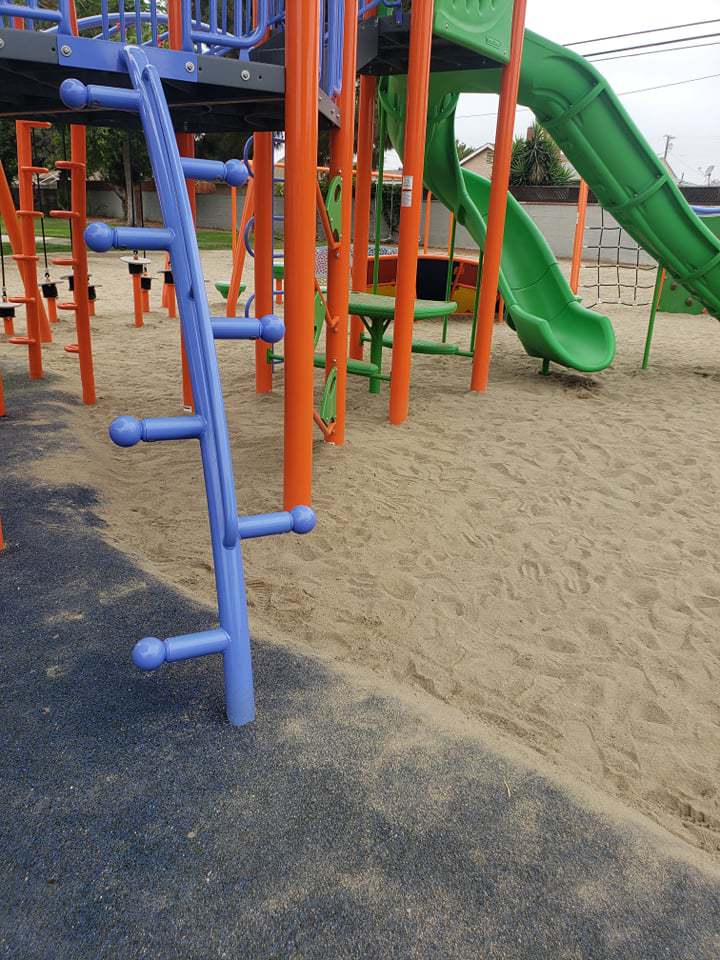 Is Cherry Park accessible for kids of all abilities?
Unfortunately, there are not a ton of features that are accessible for all kids. This park is heavy on climbing and most of the fun features are placed high on the structure. The little kid structure is slightly more accessible for kids of all abilities.
Does Cherry Park have shade?
There are large trees providing shade in much of the picnic areas, both over the tables and in the grassy area. The big kid playground and the little kid playground were designed with large shade sails, making both a great place to play on a sunny day.
How many swings are at Cherry Park?
Both the "Big Kid" play structure and the "Little Kid" play structure have a set of swings. However, both structures share the same space, so it's easy to navigate between the two and use whichever swings have availability.
On the big kid play structure side, there is a set of 4 traditional swings.
On the little kid side of the playground, there is another swing set with an additional 2 traditional swings and 2 swings with infant seats.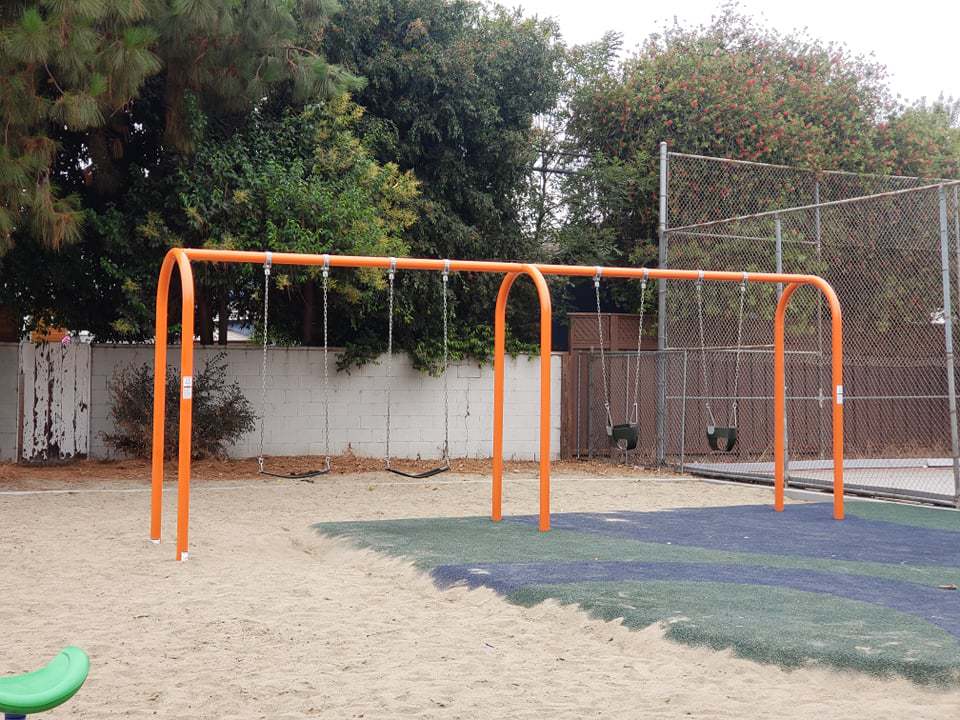 What is the best age range for Cherry Pary?
We love the new Cherry Park playground because there's something for all of our kids.
The little kid play structure was designed for kids 2 to 5. It's got four slides and some awesome was to climb for even the littlest legs.
There are also some unique features that we don't see at any parks. Like this cool frog slide puzzle.
The big kid structure was designed with kids ages 5 to 12 in mind. There are so many fun elements that older kids would enjoy. There are some especially challenging climbing elements that are perfect for older kids. Individual elements have multiple ways to play, so creating an obstacle course here is a super fun way for older kids to play.
In addition to one (always popular) twisty slide, there are two very fast tall slides that are always fun for the older thrill seeker!
Is it a good place for a picnic?
Cherry Park is a great place for a picnic! Whether you want to use one of the many large picnic tables or set up a blanket in the green space, there are lots of ways to picnic. The picnic tables are between the playground and 45th Street, so are a safe place to sit still far away from busy Cherry Ave. If you've got several kids, you can easily take a break with one while keeping an eye on another on the playground.
Can you have parties at Cherry Park?
The City of Long Beach does permit parties in the parks. However, Cherry Park doesn't have any structures you can rent for parties. As of this posting (check here for the latest information) you can hold casual parties with your own set up in the grassy areas, too. Gatherings of 25 or more people require a permit from the City of Long Beach, so make sure to plan ahead.
If you plan on having a bounce house, a permit must be acquired through the city.
What do we love most about Cherry Park?
First, Cherry Park is brand spanking new and beautiful! We love the bright, fun colors and frankly – it's just fun to look at! A subtle frog theme adds a cool design element that makes us smile. It feels almost impossible to be at this park and not be at least a little bit happy!
Additionally, Cherry Park has some features that we haven't seen at many other parks. So, if you're like us, and go to parks a lot creative features are a HUGE plus in keeping it fun and new! It's the perfect park for mixing it up and trying something different.
If your kid is into parkour they will love making their own obstacle course! They'll love trying to navigate through these features. Get your jump on with this very unique playground element.
There are some awesome climbing features that gave my little ones a challenge – which they, and I, LOVE. It's a great park to work on gross motor skills, with lots of opportunities to use your body in lots of different ways.
Fork kids that eventually tire of climbing and sliding, there are a couple pretend play elements built in as well. There's a built in kid table on the big kid play structure and an element my kids usually use as a storefront on the little kid table. This is a great playground element for fostering pretend play and socialization. My kids always make a friend when selling pies made out of sand or running their own pretend restaurant. So we're glad that Cherry Park includes these pretend play features!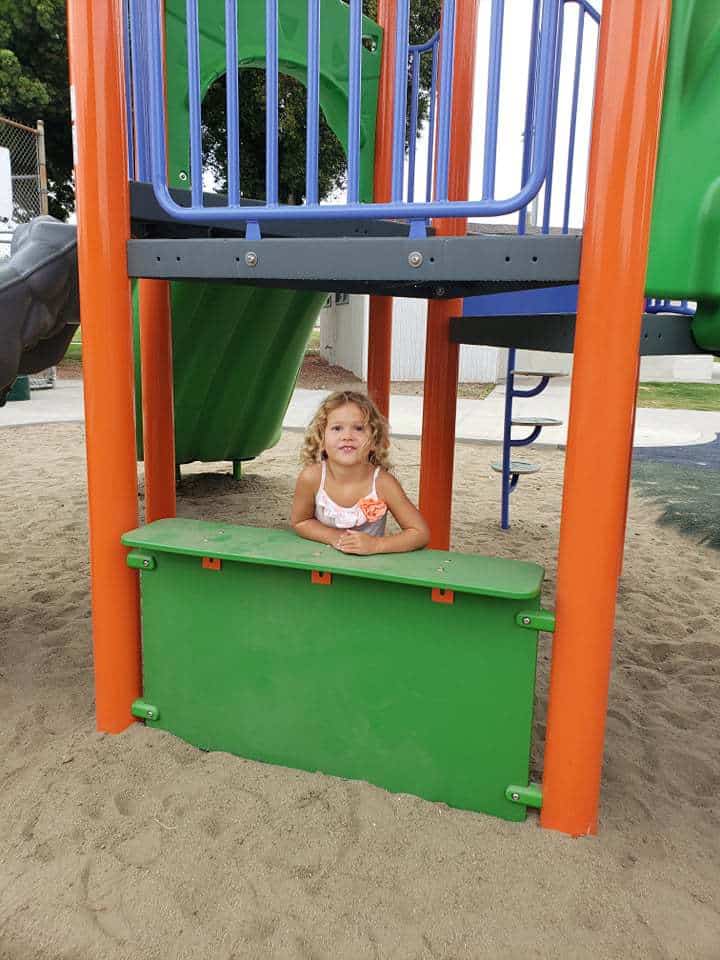 ---
There's so much to love about the Cherry Park Playground update in Long Beach. If you remember the old playground – and havent' been back – it's time to visit the new Cherry Park Playground and discover all the things to love about Cherry Park.
Looking for more local parks to visit? Head here next-