Looking to throw a park party for your kids in Long Beach? They are the best (and usually cheapest!) way to go- but what do you need to know? Read on for all the details on how to throw a park party in Long Beach.
I am a BIG fan of the park party. Sure, we have tons of birthday party venue options in and near Long Beach, CA, but the park party is one of the best ways to get a LOT of bang for your buck.
You can have lots of guests, and you can go very simple (pizza and cupcakes at the playground) or bigger (tents and food venders and jumpers).
It's a great way to get the kids outdoors and active, and is just exactly our speed.
However, there are a few hoops that you'll need to jump through before you host a park party in Long Beach. Here are the best tips from two moms that have been there!
This post contains affiliate links. As Amazon Associates, we earn from qualifying purchases. You can read more at our disclosures page. Thanks!
Can I Have a Party at the Park in Long Beach?
First things first- is it legal to have a party at a park in Long Beach? The answer is a little more complicated than just "yes" or "no."
If your party is going to be under 25 people, and you're not planning to bring in any vendors (ie food preparers) or bounce houses, you do not need a permit to have a kids' party.
If your party is going to be larger than 25 people, you need to get a permit through the Parks department. You'll also need a permit if you're planning to have someone come onsite to cook, or if you plan to have rentals, like tents or bouncehouses.
What Are the Rules for a Park Party in Long Beach?
Long Beach Parks runs a very tight ship when it comes to park parties. Don't be at all surprised if you are stopped mid-party to show your permit.
Areas are patrolled frequently, and you should make sure to adhere to the rules at all times.
Here are some of the rules for a park party in Long Beach (visit the Long Beach City site for full details):
KEEP YOUR PERMIT ON SITE. Someone will almost certainly ask to see it!
You must clean up after yourselves
Do not drive on the grass, even when setting up
No generators permitted
Food vendors must have a permit and local business license
No barbecues
No alcohol consumption
No amplified music
Tents and Structures require a separate permit
Inflatables (moon bounces, obstacle courses, etc) require a separate permit
Petting zoos, hayrides, etc require a separate permit
How Much are Park Party Permits in Long Beach?
The park party permit itself isn't super expensive. If all you do is get a permit and some pizzas, you're looking at the most affordable party option in Long Beach.
Here is the cost breakdown of park party permits in Long Beach:
Permit to Gather (25 or more people) $40
Bounce House Permit (additional fee) $35
Food Vendor/Caterer Permit (additional fee) $35
Indoor Room Rentals (community centers) $60+ per hour, 4 hour minimum
El Dorado West Picnic Shelters (reserved locations) $160
Where Do I Get a Park Party Permit in Long Beach?
First up- this information is subject to change. All information is request as of the time of posting, but you can get more details at the Long Beach Parks website.
To get a permit, you'll need to fill out a facility use application. This can be done online, through the mail, or in person at the Long Beach Parks and Recreation office, located at 3760 Studebaker Road, near Good Neighbor Park.
Personally, I think the in person option is best, easiest and also the fastest. It's the clearest way to know exactly what to pay, and if needed, you can walk away with the signed permit.
Fill out the form ahead of time, and bring your ID and a credit card for the fastest processing.
Which is the Best Park for Parties in Long Beach?
It's always easiest to choose the park closest to wear you live. It'll make it easier for friends from school to make it, and helps a lot in case you forget something and need to run by home.
We recommend scoping out the park you want in advance, preferably at the same date and time as your party. Look for nearby bathrooms, open green spaces, parking, and where the "good" spots are in advance.
If your nearest park isn't an option, these are some good parks for parties in Long Beach:
Can I Choose a Certain Spot?
With the exception of a few reservable areas in El Dorado, open party spaces are available on a first come, first serve basis.
This means that you may need to get there pretty early in the morning to call dibs on your space, if you're particular about where you want to be.
Reservable areas at El Dorado West will run you about $150, but come with shaded picnic areas.
If you want a certain spot reserved, you may be better off getting a spot reserved at a park in Lakewood (with the help of a Lakewood). Bolivar Park is a GREAT place to have a party.
Can I Have a Bouncer at a Park Party in Long Beach?
The short answer is yes, you can have a bouncer at a Park Party in Long Beach. But be prepared for extra expenses, and a little extra paperwork.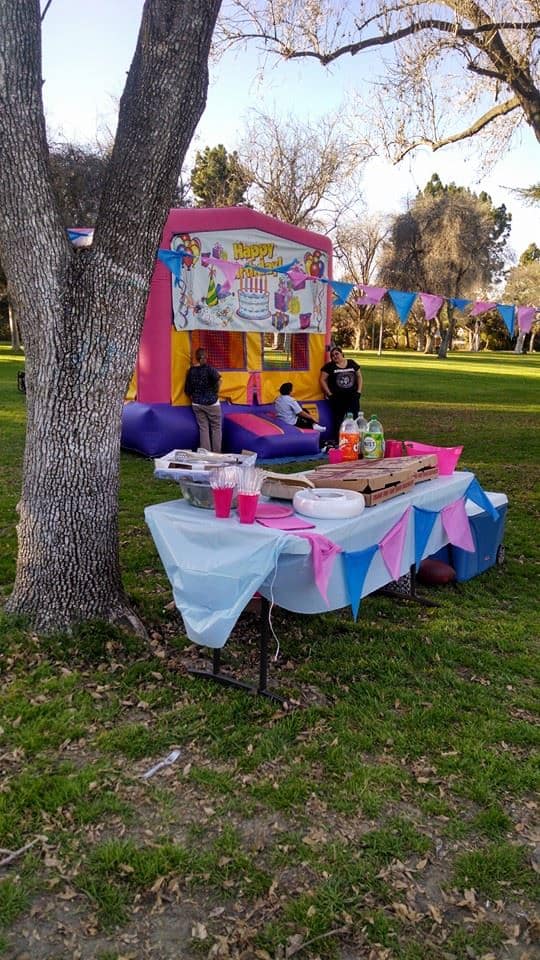 Here's how the process works:
Get your party permit from the City of Long Beach. Make sure you indicate that you'll be renting a bouncer.
Choose a vendor from Long Beach's approved Moon Bounce Vendor List. They are the only ones approved to have bounce houses at Long Beach parks.
Call the vendor and reserve your bouncer. They'll need to see your permit in order to book, as well as your driver's license.
Be prepared to pay extra. There may be extra charges for having the party at a park, and you are definitely going to need to rent a generator to keep your bouncer inflated.
PRO TIP: On both your party permit and your bounce house reservation, it makes sense to list your start time 2-3 hours before your party actually starts. This gives you time to set up, along with some wiggle room as bounce house vendors often run a little behind schedule.
What Food Should I Serve at a Park Party?
This is, of course, totally up to you! But between bounce houses and playgrounds, expect that kids won't spend much time actually sitting and eating. It's more of a grab and go, grazing situation.
Here's what we recommend:
Pizza (obviously)
Strawberries or cut watermelon
Little bags of chips
Cupcakes (cakes are way too hard to pull off at the park)
Lots of water, and other drinks if you'd like
What Should I Bring to a Park Party?
The playground and being outside with their friends is likely MORE than enough for the kids. And if you got a bounce house? Psht, your job here is done.
Here are a few other things to keep in mind when planning a park party:
Tables and chairs (or ask guests to BYO Camp Chair)
Tablecloths (1 per table, plus a couple extras)
Plates
Napkins
Tape (to secure tablecloths if it's windy)
Simple centerpieces (totally optional. We usually do flowers from our yard in a vase)
A Happy Birthday Banner (optional. If it's windy, it'll be more trouble than it's worth)
Food
Dessert
Drinks (choose bottles and cans over cups and two liters)
Skip the party favors, or go with something small and practical
A pinata (totally optional, but gives the kids something fun to do and can double as your favor.) If you go with a pinata, don't forget to bring a rope, a stick, candy to fill it with, and bags for kids to collect candy with.
---
Planning a park party in Long Beach can be tricky the first time you do it, but once you get the hang of applying for everything, they make for a super fun kid party. Don't be surprised if your kids want the same party again next year- and the one after, too!
Looking for more family fun in Long Beach? Head here next-