Looking for a little variety out of your kids meals? Or just a great value? If you're tired of the same old thing and keep asking yourself, "where can I get the best kids meal in Long Beach?", look no further. We've got you covered with the best kids menus in Long Beach.
With 4 kids, cooking (and cleaning!) every night is exhausting. But with 4 kids, eating out is also a bit of a luxury! So when we're able to go out as a family we want some place with good food at a good value. For us, that means something on the kids menu beyond your usual chicken fingers, mac and cheese, and french fries. Our kids like variety, we like value, and we both (shockingly) like some veggies in the mix.
So we went looking for the best kids meals in Long Beach. We found some exciting options you can't find everywhere, some amazing deals on low price kids meals, and portions that keep our kids tummy's full. So check out our ultimate list of the best kids menus in Long Beach. Did we miss one of your favorite spots? As always, don't forget to drop your recommendations in the comments so we can check them out and add them to our list!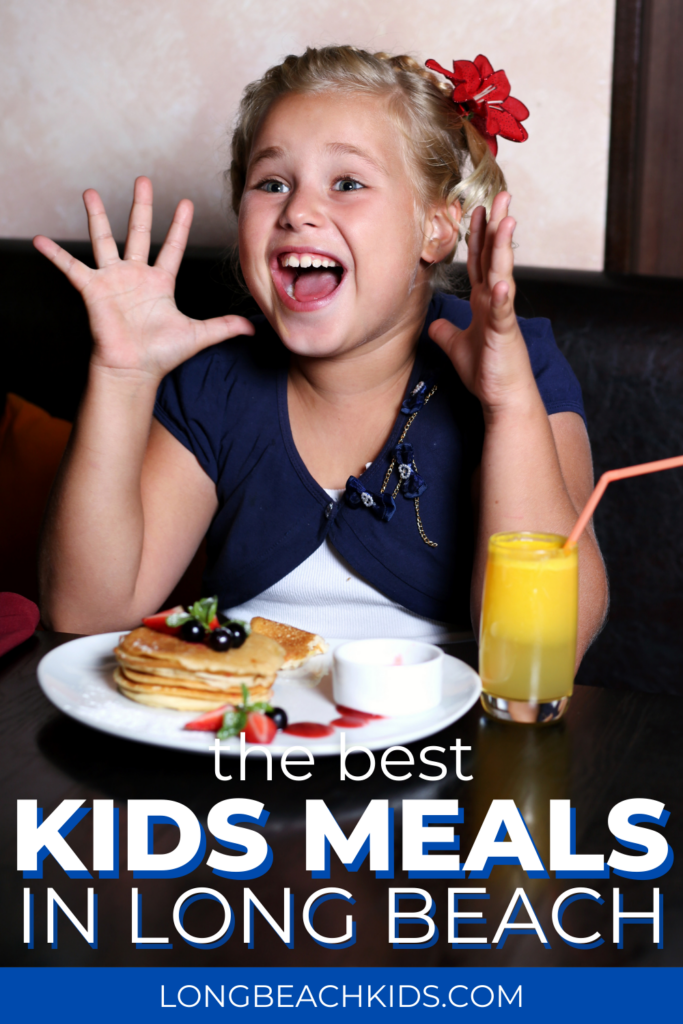 Lucille's Smokehouse Barbeque
Lucille's has one of our favorite kids meals because there really is something for everyone. My less adventurous kids are happy with the tried and true mac and cheese (Bonus points: it looks EXACTLY like the blue box mac!). My My older kids that are practicing being ready for an adult menu can feel completely grown with delicious and affordable options like Grandpa Joe's Tri Tip Supper or Finger-Lickin' BBQ Ribs. Mom and Dad LOVE that all the options aren't just fried foods and carbs and that there are fruit, veggie, and salad options as side dishes.
Plus the Jr. Banana Pudding is out of this world.
PRO TIP: If you have a Costco membership, make sure you stock up on their $100 Lucille's gift cards for $79.99! You – and your kids – won't be sorry!
Red Robin
With the closest Long Beach Red Robin located in the Lakewood Mall, we had to include this chain because of a few very important reasons. First, while the main entree options aren't exactly exotic, the side dishes provide variety past "french fries." A salad, steamed broccoli and carrot sticks round out the options making this a yummy, and healthier, kids meal.
Second, and let's admit, more importantly – those side dishes are bottomless! Which means if your kiddo is still hungry or you haven't finished your meal and need to buy some more time, you can order up another round! Pro Tip: Because the sides are bottomless, if you have more than one kid, they can get two different sides and share! That way everyone gets fries AND a healthier option like fruit! Win-win!
Grabbing lunch at Red Robin and need a place for the kids to run around? Check out one of these nearby playgrounds:
Our favorite kids breakfast in town is probably MeeMa's in Bixby Knolls. While the options look like standard breakfast fare, the quality is out of this world. The fresh fruit often consists of fresh strawberries, raspberries, blueberries, and bananas. The pancakes are light and fluffy and the potato tots are always a hit!
Bonus points – they are one of the only non-vegan restaurants I've found in town that offers vegan eggs. It's so hard to find great breakfast options if your baby has an egg allergy (like mine does!) so MeeMa's is a perfect fit!
I get it, it's a fish place, so we maybe lost most of you already. But my kids LOVE fish. (And for my one kid that doesn't, she's very happy with the chicken fingers!) My other kids love to rotate between swai, salmon, friend shrimp and fish and chips.
All the meals are generous portions and you absolutely cannot beat the price! For instance, the kids breaded shrimp comes with a side AND a drink and is under $5. We can feed our family of SIX with full seafood dinners for around $50. Between the price point and the uniqueness of the kids menu, California Fish Grill is absolutely offers one of the best kids meals in Long Beach.
Kinokawa
If you love Japanese food – and your kids do too, you'll definitely want to hit up Kinokawa in the Cal Heights neighborhood of Long Beach. This is one of those great places where your kids can get the same meal as you for a smaller price. The kids bento meal is amazing as it comes with miso soup, salad, tempura, rice, and your choice of a main protein (like teriyaki chicken or beef).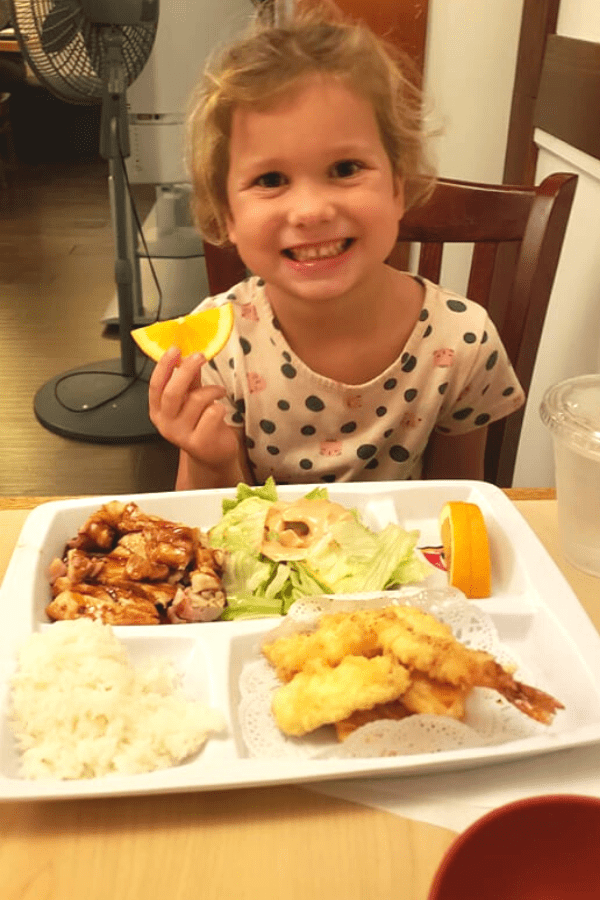 If you really want to have fun with your kids, gather some people together and make a reservation to sit in their private dining area with an authentic horigotatsu for a real Japanese experience! This traditional Japanese table that's low to the ground and has a recessed floor beneath it will blow your kids minds – and give then a unique cultureal experience beyond the delicious food!
Grabbing lunch? Reservoir Park is just across the street and is a great place to run out any pent up energy from sitting! Check out our review here!
Fresh is the word of the day at Urban Plates and the kids menu is no exception. While you can get some tried and true fried chicken fingers, it should be noted they're made from fresh, never frozen tenders in a homemade breading.
However, the other protein options at Urban Plates are so much better than what you'll find on most kids menus! Grilled steak, chicken and baked salmon round out the menu. With a place focusing on such fresh and clean proteins it won't surprise you that the side dishes are equally refreshing.
Gladstones
We love Gladstone's for the great location on the water and the great food for all kinds of eaters. From classics like pasta to corn dogs, to more adventurous options like fried shrimp, salmon or fish and chips, there is something for everyone.
Bonus – all kids meals come with vanilla ice cream – so no whining! And if you happen to be celebrating a birthday, they bring out a HUGE (and delicious) cotton candy! My kids love going for a birthday because of this unique treat.
P.F. Chang's
One of the things we love about Chinese food is that we usually do family style and get to eat a little of everything. Which is great when everyone likes the same things. If you have one picky eater, it can be more of a challenge. Luckily we can now get whatever adventurous, spicy, or not universally kid friendly entrees us parents want, while still offering our kids some delicious options as well.
Kids can enjoy their own fried rice, lo mein, honey chicken or sweet and sour chicken, or even a veggie packed Baby Buddha Feast at P.F. Chang's. Each option is INCREDIBLY priced, comes with rice AND an additional side like steamed broccoli, snap peas or fruit. Even better, hungrier kids can add an additional sides for a very nominal fee of only 50 cents each!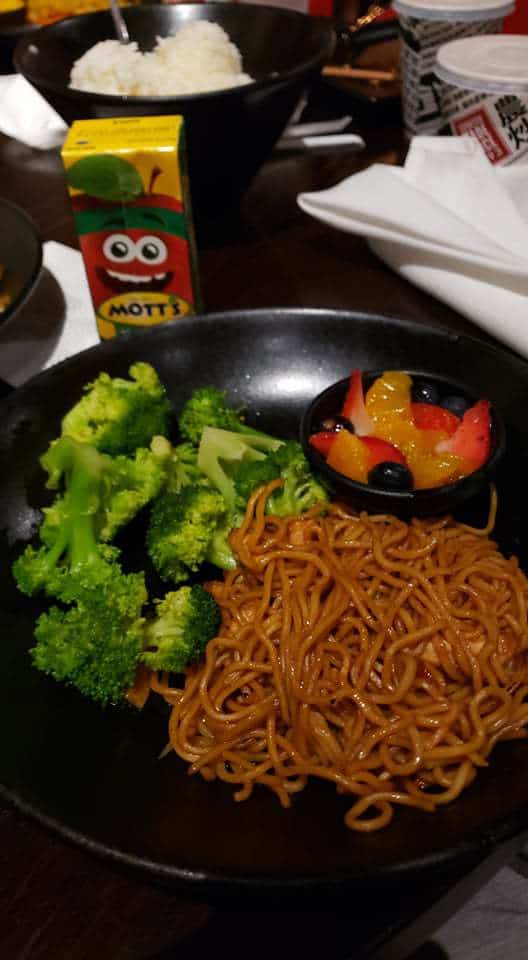 The kids menu at The Delightful Cafe is somewhat standard kids food – but with a twist! The Delightful Cafe serves delicious crepes and translates their specialty straight to the kids menu. A fun way to dip your toes into adventurous eating – instead of a peanut butter and jelly sandwich, try a PB&J crepe! Ham and cheese, grilled cheese and pepperoni pizza crepes make this kids menu all at once familiar and very different!
Ubuntu "The Greatest Neighborhood Cafe"
Located near Colorado Lagoon, this fresh California-cafe serving mostly organic and locally sourced ingredients is one of the hippest new spots in town. And while the kids menu at Ubuntu might not be the most interesting menu in town, it gets ALL the points for creativity! If you've ever taken a kid to a restaurant, you've surely heard them request an "I Don't Know!" or an "I'm Not Hungry!" So if they pull that at here? Ubuntu's got you covered! We also LOVE that they give guacamole with the kids quesadilla, because can you really be a California grill if you're not getting the kids to love their avocado early?
Shhh! This one is a bit of a secret, because the kid's menu is technically off-menu! BUT we have it on very good authority that if you ask nicely, they'll happily serve your little one a child sized portion (at a child friendly price) of any of their pastas! Ellie's is definitely on the fancier end of the family dining spectrum, so you're still going to be looking at a little higher end options here. But if you want to go out for a very nice dinner, and bring the kids along, you can definitely get something delicious for your kids.
Don't Forget Dessert!
Whether you want a tasty dessert after dinner or feel like ditching dinner and heading straight to dessert, we've got you covered! Check out our roundup of the best dessert spots in Long Beach, perfect for your next Kid Date!
Looking for more in our Best of Long Beach series? Head here next!