Long Beach, CA has some FANTASTIC parks (and with new bond measures, they're getting better all the time!) But people ask us all the time- what are the BEST parks in Long Beach? We've got our favorites- read on to find out where they are!
Southern California is known for its gorgeous year round weather. And one of the perks? Our gorgeous, super fun city parks system.
Unlike other places around the country, we have access to these free parks all year long.
Which park you choose has a lot to do with what your kids enjoy. We'll break the best parks in Long Beach down by category so you can find the one that's best for you.
However, we also strongly recommend trying out ALL the parks on this list! You never know just how much your kids will love something until you give it a try.
So without further ado, here it is – our list of the best parks in Long Beach, CA.
This post contains affiliate links. As Amazon Associates, we earn from qualifying purchases. You can read more at our disclosures page. Thanks!
What to Take to a Long Beach Park
First up, your trip is going to go smoother if you're well prepared.
There are two basic schools of thought on this- you can either travel light and bring nothing, or bring the whole wide world.
We tend to be the "travel light" type, but these things will help ensure your visit goes more smoothly (and thus, that the kids can stay a little longer).
Resuable Water Bottle– We recommend bringing in your own water. Sure, there are sometimes water fountains, but we all know those can get shady. These Funtainer Water Bottles are our favorite for parks, and come with or without a straw.
First Aid Kit- If they're doing it right, kids are going to get scrapes, bumps, and bruises. If someone starts bleeding, you're going to want a few bandaids. We like to keep this first aid kit in our car, just in case.
Snacks- We don't usually bring a bunch of snacks to the park, but we know many people do. It helps keep the play going longer if your kids get hungry.
Hats & Sunnies- Some parks are sunnier than others. You may want to take along a hat and some sunglasses.
Sunscreen– You're going to want to come prepared. We recommend keeping two types of sunscreen with you. We like this sunscreen spray for overall, quick coverage. And this roll on sunscreen stick my sister discovered is a TOTAL game changer for faces, necks, and ears.
The Best Parks in Long Beach
Okay, time to cut to the chase- these are the best parks in Long Beach (in our humble but experienced opinion)
Whaley Park- There's great climbing, a little open green space, and a very fun merry-go-round swing set.
Los Cerritos Park in Long Beach– The zip line and varied play structures make this a big hit with kids of all ages.
Golden Grove Park (in El Dorado Regional Park)- This one is a good one! Spread out over several play structures and with an epic circular swing set, this one truly has something for everyone.
Lincoln Park– This one gets marked down for tough parking and slightly edgier surroundings, but oh my GOODNESS is it fun. There's lots to do, climb, spin, and explore, as well as a skate park and giant penny for photo ops.
Colorado Lagoon Playground- This is my favorite beach playground for younger kids, especially if you want to get some tame swimming in. (Junipero Beach is a better bet for older kids, and has GREAT climbing options)
Best Climbing Parks in Long Beach
Got little climbers on your hands? Here are the parks we think they'll like the most-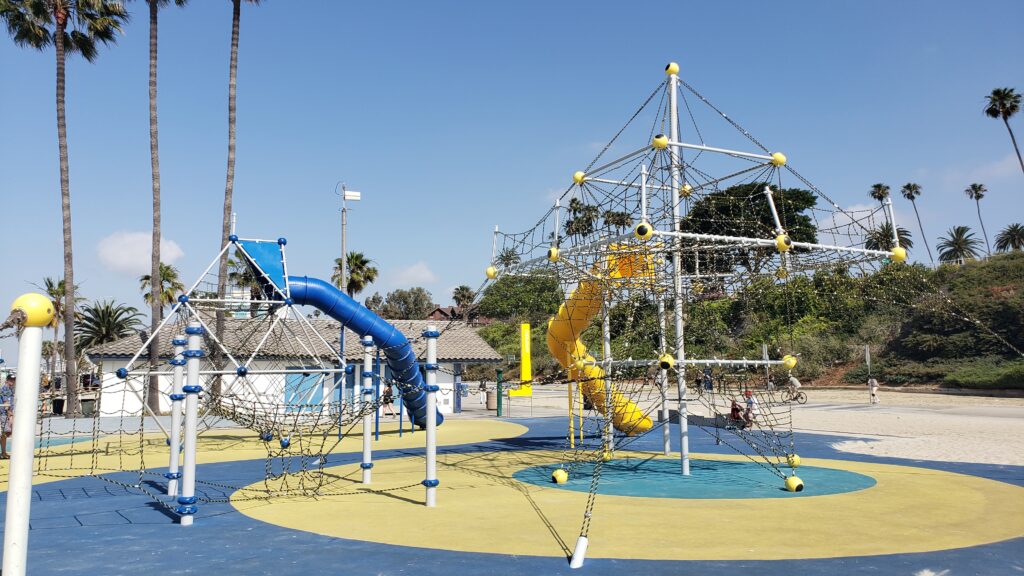 Parks with Big Slides in Long Beach
Got a sensory seeker that loves a biiiiig slide? Check these out-
Beach Playgrounds in Long Beach
Want a mix of activities? Here are the local beaches with playgrounds nearby-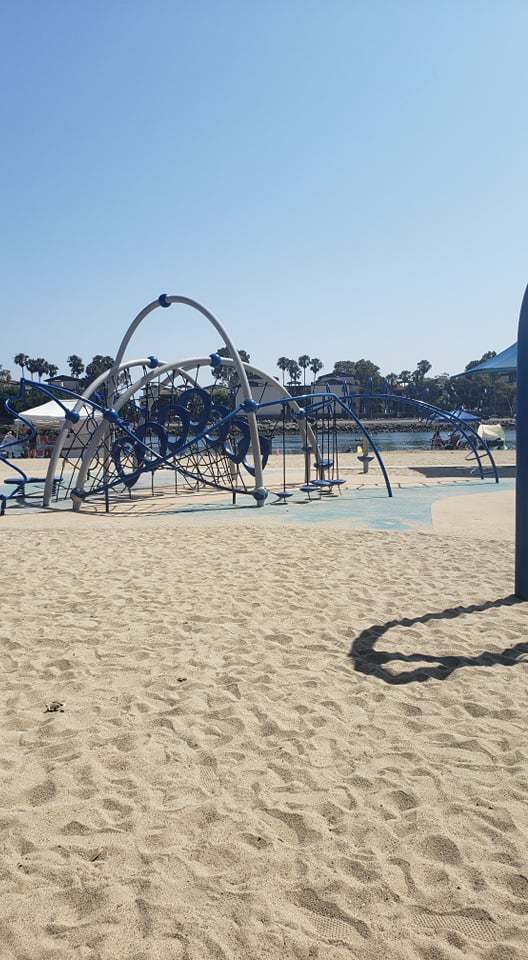 Best Sensory Playgrounds in Long Beach
Have a sensory seeking kiddo? These are our favorites to meet those sensory needs.
Parks with Open Space in Long Beach
Looking for a place to play Frisbee or football? Here are the local parks with lots of green space.
Wardlow Park– There is tons of green space available at Wardlow, and a fun tree line to explore.
Whaley Park– There is a nice stretch of green space here, as well as another park across the street if you need more open areas.
Good Neighbor Park in Long Beach– You'll find plenty of green space, as well as widespread play structures.
El Dorado Regional Park- It doesn't get more open than this one! You will pay for entry at this gorgeous green space, though.
---
So there you have it, a list of the best parks in Long Beach. All the parks have something unique to offer, and we're sure we've missed a few.
Which park in Long Beach is YOUR favorite? We'd love to hear about it in the comments!
Looking for more local fun? Head here next-